I want that...
Amys Kitchen : Natural and Organic Foods
epicshirtmakers
TouchOfModern
Rose Park Advisors - Home
republic wireless - a community of people
"Works Like a Charm"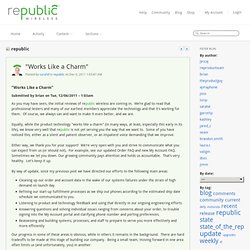 The Loog Guitar | Not just a children's guitar
Clicky clicky on the wall, who's the best real-time analytics of them all? It's not a hard question to answer. You should be using Clicky. Sure, Google Analytics has a real-time view of visitors on your site and what they're doing, but it's not exactly the best experience or easiest to understand. Since most analytics don't let you see what's happening today until the day after, it can be difficult to see how your marketing efforts are effecting people in real time. So let's say you spent 10 hours on a thought provoking article and tweet it or submit it to digg.com.
Real-time web analytics with Clicky