I want that...
Amys Kitchen : Natural and Organic Foods. Assistants for Everyone - Fancy Hands. Genetic Testing for Health, Disease & Ancestry; DNA Test - 23andMe. Epicshirtmakers. TouchOfModern. DNA Art by DNA 11 | Your DNA as artwork on canvas. Rose Park Advisors - Home. Innosight Institute. Raspberry Pi | An ARM GNU/Linux box for $25. Take a byte!
Republic wireless - a community of people. "Works Like a Charm" Submitted by brian on Tue, 12/06/2011 – 1:03am As you may have seen, the initial reviews of republic wireless are coming in.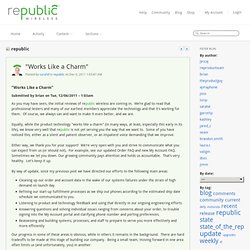 We're glad to read that professional testers and many of our earliest members appreciate the technology and that it's working for them. Ting - Mobile That Makes Sense. Kickstarter. Fund Science and Explore the World with Renowned Researchers - Petridish. The Loog Guitar | Not just a children's guitar. MakerBot Industries. Woot® : One Day, One Deal™ Real-time web analytics with Clicky. Clicky clicky on the wall, who's the best real-time analytics of them all?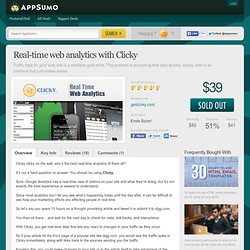 It's not a hard question to answer. You should be using Clicky. Sure, Google Analytics has a real-time view of visitors on your site and what they're doing, but it's not exactly the best experience or easiest to understand. Since most analytics don't let you see what's happening today until the day after, it can be difficult to see how your marketing efforts are effecting people in real time. So let's say you spent 10 hours on a thought provoking article and tweet it or submit it to digg.com.
---