I want that...
Amys Kitchen : Natural and Organic Foods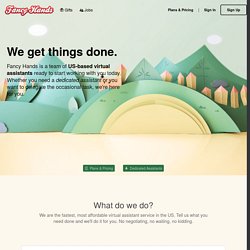 As a member of Fancy Hands, you're always supported by a team of assistants, but with our Personal Touch feature, you can give the whole team one name. You can set up a custom email address so it appears you're always working with one assistant. This allows you to say in an email, for example, "I've cc'ed my assistant, George, who will schedule this meeting for us." This is less confusing for everyone instead of you saying, "I've cc'ed my awesome team of assistants at Fancy Hands." Once you set the Personal Touch feature up, all of our assistants will use that specific email address and name whenever reaching out to third parties on your behalf.
epicshirtmakers
TouchOfModern
Rose Park Advisors - Home
Rose Park Advisors, LLC, based in Boston, MA, is a specialized investment firm focused on identifying investment opportunities by applying the framework of disruptive innovation. On the long side, we apply the disruptive innovation framework to identify companies whose strategy is well suited to take advantage of change. On the short side, we identify incumbent companies whose future vitality is threatened by disruptive attackers. A key finding of founder Clayton Christensen's research is that many of the companies that grow from start-ups to become industry giants are built around innovations that create new markets or reshape existing ones. Just as established companies systematically underestimate how large entrant competitors will become, tools of financial analysis systematically underestimate their growth potential. Because these entrant companies tend to be misunderstood, the market misjudges their impact, presenting an investment opportunity.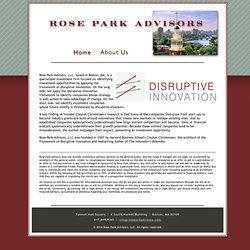 republic wireless - a community of people
"Works Like a Charm" Submitted by brian on Tue, 12/06/2011 – 1:03am As you may have seen, the initial reviews of republic wireless are coming in. We're glad to read that professional testers and many of our earliest members appreciate the technology and that it's working for them.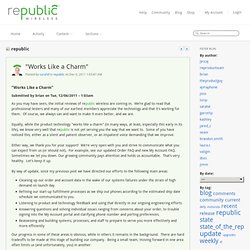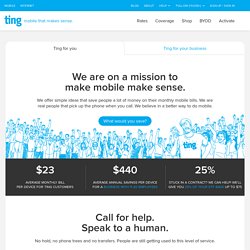 <div class="widget"><h2>Javascript support</h2><p>We want to make sure you have an outstanding Ting experience. We are not able to deliver that with your current browser settings. Please enable Javascript in your browser settings .
Petridish lets you fund promising research projects and join first hand in new discoveries. World famous researchers post projects and expeditions that need your help to get off the ground.Each project has a minimum threshold it must hit in pledges, or it will not be funded. Backers in successful projects join the team and get insider rewards such as: Early access to news about progress and findings, souvenirs from the field, acknowledgements in journals, naming rights for new discoveries, or the ability to join an expedition in person. Join forces with renowned researchers! Still want to know more?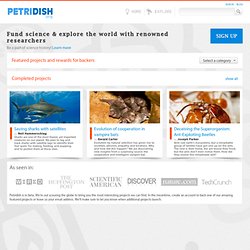 The Loog Guitar | Not just a children's guitar
"Just slowly remove the item. Thank you." "Do you know what this is?" "Uh, yeah.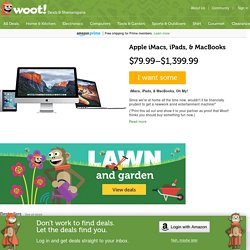 Clicky clicky on the wall, who's the best real-time analytics of them all? It's not a hard question to answer. You should be using Clicky. Sure, Google Analytics has a real-time view of visitors on your site and what they're doing, but it's not exactly the best experience or easiest to understand. Since most analytics don't let you see what's happening today until the day after, it can be difficult to see how your marketing efforts are effecting people in real time. So let's say you spent 10 hours on a thought provoking article and tweet it or submit it to digg.com.
Real-time web analytics with Clicky