Science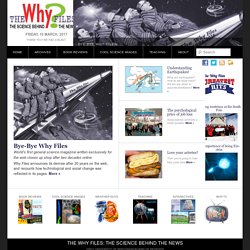 Senate approves extended unemployment compensation What does long-term job loss do to depression, anxiety, brooding? Could long-term job loss shorten your life? Does job loss lead to shaken baby More » Exercise helps pain after breast cancer treatment We reported on viruses that infect cancer cells, force them to make more virus, and then die. Can viruses become "intelligent bio-agents" against cancer? More » Army Corps offers $25-B carp-blocking plan for Chicago Ecologists are desperate to forestall a devastating invasion of the Lakes. Should canal be closed to cut off the damaging fish, or is it already More »
Ever wonder how people figured out there used to be such things as dinosaurs? Curious about how scientists learned to reconstruct fossil skeletons? The knowledge we take for granted today was slow in coming, and along the way, scientists and scholars had some weird ideas. New: From Apelike to Us New in the Goof Gallery Featured in the Goof Gallery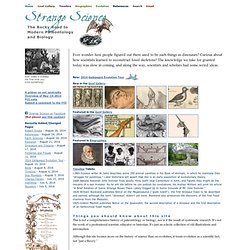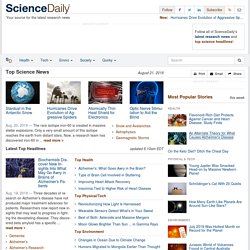 Megafloods: What They Leave Behind South-central Idaho and the surface of Mars have an interesting geological feature in common: amphitheater-headed canyons. Researchers offer a plausible account that all these canyons were created by enormous floods. ... > full story Image Perception in the Blink of an Eye Imagine seeing a dozen pictures flash by in a fraction of a second. You might think it would be impossible to identify any images you see for such a short time.
Physclips: Mechanics with animations and video film clips. Kinematics and dynamics are presented here in multimedia, at introductory and also at deeper levels. Individual video clips and animations are suitable for use by teachers, while students may use the whole package for self instruction or for reference. Animations from Physclips require the Flash 8 Plugin. The multimedia modules have animations and film clips and are typically 3-5 Mb. The much smaller HTML versions have only text and images.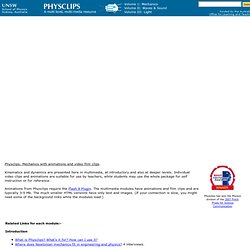 A famous urban legend states that a penny dropped from the top of the Empire State Building will punch a hole in the sidewalk below. Given the height of the building and the hardness of the penny, that seems like a reasonable possibility. Whether it's true or not is a matter that can be determined scientifically. Before we do that, though, let's get some background. Falling rocks can be dangerous and, the farther they fall, the more dangerous they become.
How Everything Works - How Everything Works Home Page