Creativity
Get flash to fully experience Pearltrees
At the risk of having you never come back to this site, I have compiled a list of 17 other sites to feed your creative appetite.
Today I thought I'd share something a little different, and hopefully useful for all you fellow dreamers- a list of some of the websites I've found that exude creative coolness or spark inspiration in some way. Some are well known and fun, others may be helpful or quietly inspiring. I hope these suggestions spark your creativity as they do mine!
Leslie Owen Wilson 1997, 2005, restrictions on usage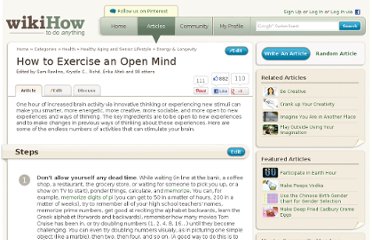 One hour of increased brain activity via innovative thinking or experiencing new stimuli can make you smarter, more energetic, more creative, more sociable, and more open to new experiences and ways of thinking. The key ingredients are to be open to new experiences and to make changes in previous ways of thinking about these experiences.