Self Publishing
Calculate How Many Books Amazon Sells from Ranks Subscribe to my publishing blog by Email Note: This analysis is in no way sponsored or approved by Amazon.com. I have another article for Amazon book sales compared to Barnes&Noble and Borders. And a quick note for those authors whose sales ranks don't appear to agree with their reported sales. You have to keep in mind that Amazon sales rank included sales of both new and used books from Marketplace sellers, who ship more than one in three items sold by through Amazon.
Amazon Sales Rank - Sales Ranks For Amazon Self Publishing and Trade Books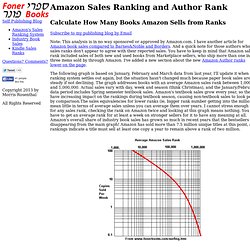 What is Sales Rank Express? Sales Rank Express is an Amazon sales rank checker, designed for quick, up-to-the-minute checking of Amazon sales rank (or ranking) and other vital info about your own books or others that interest you. Though it also offers limited tracking, it is not basically a sales rank tracker—like NovelRank, RankForest, Metric Junkie, RankTracer, Books & Writers, eBookTracker, the now mostly dysfunctional TitleZ, or the Sales Info tab of Amazon.com's Author Central. But Sales Rank Express is unequalled at providing an up-to-the-second snapshot of the status and standing of one or more books on Amazon.
Sales Rank Express (Amazon Sales Rank, Sales Ranking, Classement Parmi les Ventes, Verkaufsrang, ランキング, Sales Rank Tool, Checker, Watcher, Amazon.com, Amazon.ca, Amazon.co.uk, Amazon.fr, Amazon.de, Amazon.co.jp)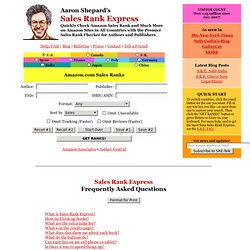 Self Publishing 2.0: Creating an Author Website in Nvu Video Tutorial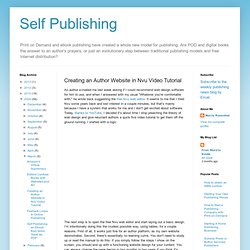 An author e-mailed me last week asking if I could recommend web design software for him to use, and when I answered with my usual "Whatever you're comfortable with," he wrote back suggesting the free Nvu web editor. It seems to me that I tried Nvu some years back and lost interest in a couple minutes, but that's mainly because I have a system that works for me and I don't get excited about software. Today, thanks to YouTube, I decided it's about time I stop preaching the theory of web design and give reluctant authors a quick five video tutorial to get them off the ground running.
Scribe - Plans & Pricing
Professional $97.00 per month 300 evaluations 700 keyword searches Unlimited websites