Marketing - engagement client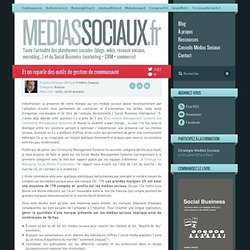 Industrialiser la présence de votre marque sur les médias sociaux passe nécessairement par l'adoption d'outils vous permettant de centraliser et d'automatiser les tâches, mais aussi d'organiser vos équipes et de faire de l'analyse décisionnelle (" Social Business Intelligence " ?). J'avais déjà abordé cette question il y a près de 3 ans ( Des content Management Systems aux Community Management Systems ), et depuis la situation a bien changé… ou pas !
Comment renforcer l'engagement à la clientèle » wiki utile
frenchweb (@frenchweb) sur Twitter
Twitter
Emarketing.fr (emarketing_fr) on Twitter
Marque Communication (@MarqueComm) sur Twitter
Webmarketing & co'm (webmarketingcom) on Twitter
Strategies (@strategies1) sur Twitter
L'influence de l'Internet sur la relation client (débat)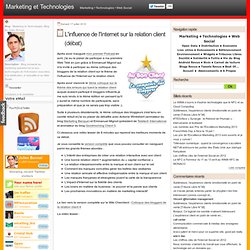 Samedi 17 juillet 2010 6 17 / 07 / Juil / 2010 11:30 Après avoir inauguré mon premier Podcast en avril, j'ai eu le plaisir de participer à ma première Web Télé en juin grâce à Emmanuel Mignot qui m'a invité à participer au 4ème colloque des bloggers de la relation client sur le thème de l'influence de l'Internet sur la relation client. Après avoir visionné le 3ème colloque sur le thème des erreurs qui tuent la relation client auquel avaient participé 6 bloggers influents je me suis rendu à la 4ème édition en pensant qu'il y aurait le même nombre de participants, sans préparation et que je ne serais pas trop visible ;).
Five Rules for Success in The Relationship Age™ - Jack Myers - Jack Myers - JackMyersThinkTank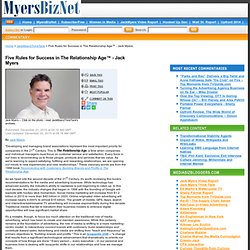 Published: December 21, 2010 at 08:05 PM GMT Last Updated: December 20, 2010 at 08:05 PM GMT By Jack Myers "Developing and managing brand associations represent the most important priority for companies in the 21 st Century.
The Art of Consumer Engagement
We empower social business. Stop interrupting, start engaging.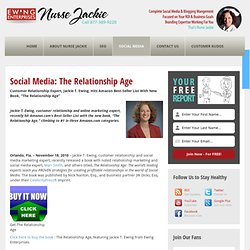 Customer Relationship Expert, Jackie T.
Social Media: The Relationship Age | The Edge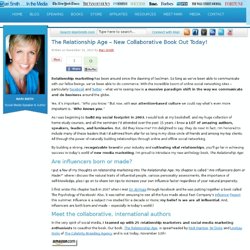 The Relationship Age – New Collaborative Social Media Book
Relationship marketing has been around since the dawning of (wo)man.
Five Rules for Success in The Relationship Age™ - Jack Myers - Jack Myers - JackMyersThinkTank
Silverpop-EngagementMarketing-WP
Définition de l'Engagement Marketing - francoisprigent.fr
Engagement marketing , sometimes called "experiential marketing," "event marketing", "live marketing" or "participation marketing," is a marketing strategy that directly engages consumers and invites and encourages consumers to participate in the evolution of a brand . Rather than looking at consumers as passive receivers of messages, engagement marketers believe that consumers should be actively involved in the production and co-creation of marketing programs, developing a relationship with the brand.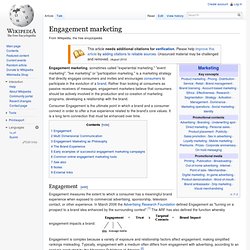 Engagement marketing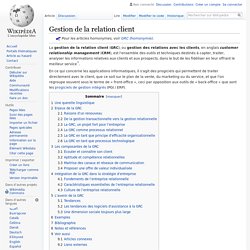 Un article de Wikipédia, l'encyclopédie libre.
Mecanismes de Ventes 2.0 et CRM
Solution Crm | Comparatif-CRM.com
Comparatif des principaux CRM étudiés
Date de publication : 18/04/2007 , Date de mise à jour : 18/04/2007 Par Fleur-Anne BLAIN (fablain.developpez.com) Ce tutoriel a pour but de vous présenter ce qu'est un Gestionnaire de Relation Client(GRC), plus communément appelé Customer Relationship management (CRM), à travers ses principales fonctionnalités.