MODIS
pyModis library was developed to replace old bash scripts developed by Markus Neteler to download MODIS data from NASA FTP server. It is very useful for GIS and Remote Sensing Platform of Fondazione Edmund Mach to update its large collection of MODIS data. It has several features: it is very useful for downloading large numbers of MODIS HDF/XML files and for using this in a cron job for automated continuous updating it can parse the XML file to obtain information about the HDF files it can convert a HDF MODIS file to GEOTIF file using MODIS Reprojection Tool it can create a mosaic of several tiles using MODIS Reprojection Tool and can create the xml metadata file with the information of all tiles used in mosaic Contents: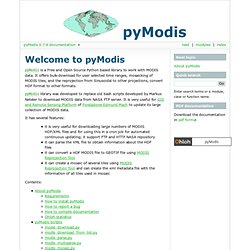 GIS and Remote Sensing Unit at FEM-CRI - pyModis
Quick Band Combination Analisis
<input type="submit" name="Submit" value="Update Products" /> <input type="submit" name="Submit" value="Update Selection Options" /> Please read the disclaimer about the Collection 5 MOD04_L2 and MYD04_L2 products.
MODIS Level 1 -- LAADS Web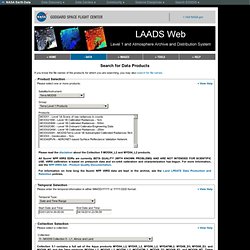 MODIS Reprojection Tool - Swath | Tools | LP DAAC :: ASTER and MODIS Land Data Products and Services
LAADS Web -- Level 1 and 2 Browser