Papaua new guneau
Zama Coursen-Neff: Where Violence Against Women Is Rampant. Papua New Guinea has made the international news again with a horrific story to reinforce stereotypes about the country: sorcery, sex, and fire.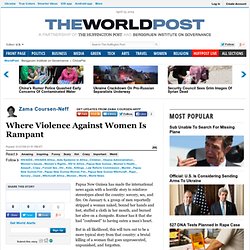 On January 6, a group of men reportedly stripped a woman naked, bound her hands and feet, stuffed a cloth in her mouth, and burned her alive on a dumpsite. Rumor has it that she had "confessed" to having eaten a man's heart. But in all likelihood, this will turn out to be a more typical story from that country: a brutal killing of a woman that goes unprosecuted, unpunished, and forgotten. In Papua New Guinea, research indicates, two-thirds of women experience domestic violence, and 50 percent of women have experienced forced sex. The Australian development agency AUSAID just issued a new report identifying violence against women as a major barrier to Papua New Guinea's development. Tapora and Sarah, two women from Papua New Guinea, report to the UN's CEDAW Committee. Stand up with women in Papua New Guinea.
Increasing sorcery-related killings in Papua New Guinea. Culture of Papua New Guinea - traditional, history, people, clothing, traditions, women, beliefs, food, customs, family, social, dress, marriage, men, life, population, rituals, History and ethnic relations. Culture Name Papua New Guinean Alternative Names Niugini (Pidgin English)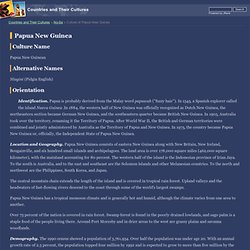 DomesticViolenceFactSheet(National) WHO Multi-country Study on Women's Health and Domestic Violence against Women. Author: Claudia García Moreno Henrica A.F.M.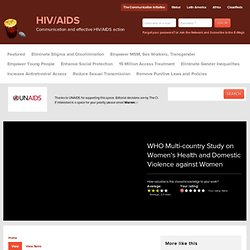 Jansen. Violence against Women - Gender Issues. Violence against women and girls is one of the most widespread violations of human rights.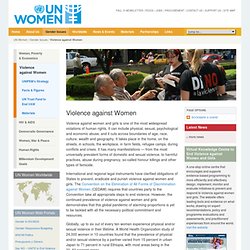 It can include physical, sexual, psychological and economic abuse, and it cuts across boundaries of age, race, culture, wealth and geography. It takes place in the home, on the streets, in schools, the workplace, in farm fields, refugee camps, during conflicts and crises. It has many manifestations — from the most universally prevalent forms of domestic and sexual violence, to harmful practices, abuse during pregnancy, so-called honour killings and other types of femicide. International and regional legal instruments have clarified obligations of States to prevent, eradicate and punish violence against women and girls. The Convention on the Elimination of All Forms of Discrimination against Women (CEDAW) requires that countries party to the Convention take all appropriate steps to end violence.
ABC The Drum - Feminism is failing in the war against women. Updated Tue 28 Sep 2010, 3:33pm AEST In a chilling ABC radio interview last week, a young Palestinian man calmly described how he repeatedly smashed his sister's head against the wall until he killed her.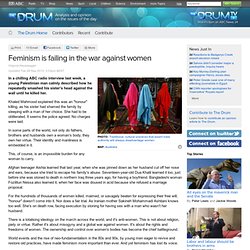 Khaled Mahmood explained this was an "honour" killing, as his sister had shamed the family by sleeping with a man of her choice. Human rights key to achieving Development Goals.
---