Tutorials
Video
Drawing. Drawing Lessons - How to Draw the Portrait - Drawing Figure - Drawing Still Life. - www.draw23.com (HTTP) Draw As A Maniac - drawasamaniac.com (HTTP) Arthur Mask is an amazingly gifted 2d artist and illustrator based in Sao Paulo, Brazil.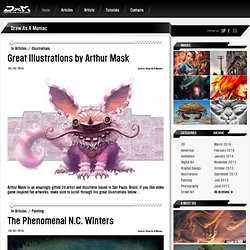 If you like video game inspired fan artworks, make sure to scroll through his great illustrations below… N.C. Winters is an artist based in the sunny San Diego, constantly drawing, painting, making webcomics, working digitally and even at times sculpting. He paints in watercolor and,or acrylic, usually on paper or wood and often resin the final piece for extra depth and shine. Maria Ilieva was born in 1973 in Sofia, Bulgaria. Tutvid.com - tutvid.com (HTTP) Create a unique contact form with css3 transitions | PeHaa Blog - pehaa.com (HTTP) Inspired by the contact form on Clear Span Media website I decided to recreate an effect of a letter sliding out from an envelope on mouse hover.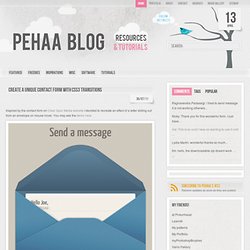 You may see the demo here. It works in browsers supporting css3 transitions. In IE the envelope is not visible, I certainly could have played a bit more with jQuery to reproduce a similar effect, but it's not a part of this tutorial. Let's start with the html structure: The idea is as follows (I tried to illustrate it in the scheme below): the #form_wrap is positioned relatively (top:0), with the envelope fixed to its bottom. How to do anything - www.wikihow.com (HTTP) Website Design Tutorial | How to Design a Website - www.garysimon.net (HTTP) A fully comprehensive step by step tutorial, from design to HTML & CSS.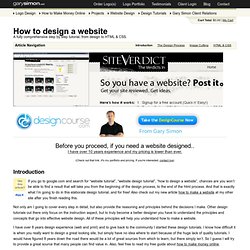 Introduction If you go to google.com and search for "website tutorial", "website design tutorial", "how to design a website", chances are you won't be able to find a result that will take you from the beginning of the design process, to the end of the html process. And that is exactly what I'm going to do in this elaborate design tutorial, and for free! Also check out my new article how to make a website at my other site after you finish reading this. Method & Craft - methodandcraft.com (HTTP) Quick Tip: 7 Super-Handy PHP Functions for Beginners | Nettuts+ - net.tutsplus.com (HTTP) Have you ever taken a look at the list of functions available in PHP?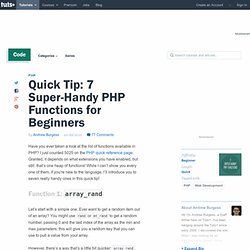 I just counted 5025 on the PHP quick reference page. Granted, it depends on what extensions you have enabled, but still: that's one heap of functions!
---