Boda47
Maps
Organize. Next Economy @fer_ananda. Grasping Reality with a Sharp Beak. 89.9FM - Media Player. Baby boomer bull now worried. By Peter Brimelow, MarketWatch NEW YORK (MarketWatch) — A bouncing baby-boomer bull is developing doubts about stocks and the economy.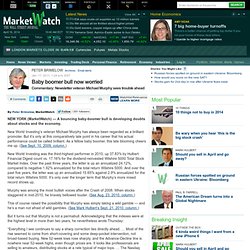 New World Investing's veteran Michael Murphy has always been regarded as a brilliant promoter. But it's only at this comparatively late point in his career that his actual performance could be called brilliant. As a fellow baby boomer, this late blooming cheers me up.
Garden Guides, Your Guide to Everything Gardening. Real Estate. Car. State of the Nation. Pearltrees videos. Help.
---