Twitter related
Apps. FrontPage. Twitter Directory and Search, Find Twitter Followers. TweetGrid - by jazzychad. Tweet Scan - Microblog Search. Boston Twitter Trends | Happn.in. Twithority Search. What The Trend. Find out WHY terms are trending on Twitter. Twitturly - The Top Twitter Links, Real Time. Twubs. Retweetist. Twitter Groups. Tweepler (Tweepler.com) TwitHawk - Twitter & Social Media Targeted Marketing. Twittearth. Monitter : real time, live twitter monitor | free live twitter e. Visible Tweets – Twitter Visualisations. Now with added prettine.
For Windows - Seesmic. Seesmic has been acquired by HootSuite and as of March 2013, the Seesmic website is no longer supported.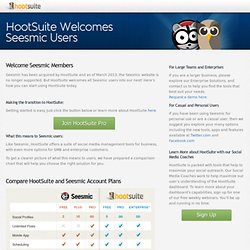 But HootSuite welcomes all Seesmic users into our nest! Here's how you can start using HootSuite today. Making the transition to HootSuite: Getting started is easy. Just click the button below or learn more about HootSuite here. Tweetbeat Firsthand. Tweetbeat Firsthand. The Reveal: Killer Apps for A Successful Twitter Network (Pt.2) I hope you've already embarked on a Twitter-search journey since the clickable chart.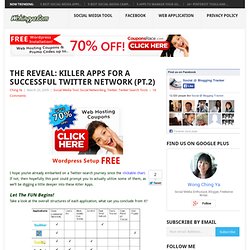 If not, then hopefully this post could prompt you to actually utilize some of them, as we'll be digging a little deeper into these Killer Apps. Let The FUN Begins!
---