Hacking
News
cDc releases Goolag Scanner (posted by MiB on Februari 20th, 2008) SECURITY ADVISORY: The following program may screw a large Internet search engine and make the Web a safer place. LUBBOCK, TX, February 20th -- Today CULT OF THE DEAD COW (cDc), the world's most attractive hacker group, announced the release of Goolag Scanner, a web auditing tool. Goolag Scanner enables everyone to audit his or her own web site via Google. The scanner technology is based on "Google hacking," a form of vulnerability research developed by Johnny I Hack Stuff. He's a lovely fellow.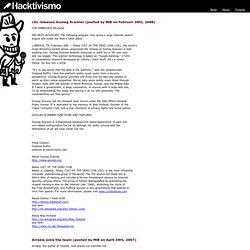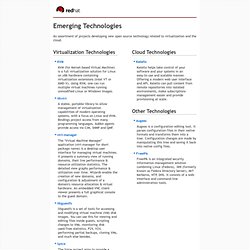 Main Page - RedHatET
An assortment of projects developing new open source technology related to virtualization and the cloud. Virtualization Technologies KVM (for Kernel-based Virtual Machine) is a full virtualization solution for Linux on x86 hardware containing virtualization extensions (Intel VT or AMD-V).
/ - CyberArmy
cDc communications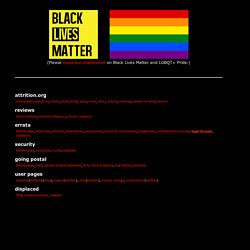 attrition.org
attrition.org disclaimer, about us, current news, past news, staff, FAQ, why, how, misc, visual, schwag, search errata
Hack In The Box :: Keeping Knowledge Free
UNaXcess : Introduction
On the face of things, we seem to be merely talking about text-based files, containing only the letters of the English Alphabet (and the occasional punctuation mark). On deeper inspection, of course, this isn't quite the case. What this site offers is a glimpse into the history of writers and artists bound by the 128 characters that the American Standard Code for Information Interchange (ASCII) allowed them. The focus is on mid-1980's textfiles and the world as it was then, but even these files are sometime retooled 1960s and 1970s works, and offshoots of this culture exist to this day.
T E X T F I L E S D O T C O M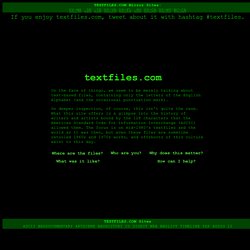 Index .:. UGN Security .:. Dare to take the road to Knowledge, I
/i/nsurgency W/i/ki