30.6.10
Have you ever Googled a coworker or yourself? Wouldn't you love to know who is Googling you?
How Can You Find Out Who Is Googling You?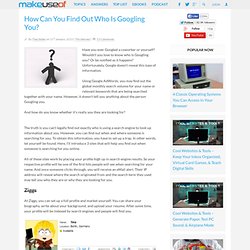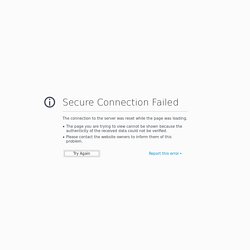 Many people often have accounts with sites like Facebook, Digg, YouTube, AIM, etc. and giving people access to all of these different contact methods in one place can be a hassle sometimes. While other services like Retaggr offers this ability, newer services like Chi.mp offers more features that allows you to better manage your online identity and create your own site to share yourself and contact information with others. When signing up for Chi.mp (which stands for Content Hub & Identity Management Platform), you're able to choose your own personal .mp domain name for your site (which you can later buy for $20 a year) and create your site which isn't just a list of places where you are on the internet – it's an interactive place for your identity.
Manage Your Online Identity With Chimp
20 Tips to Define And Manage Your Social Networks [Part 2]
In the previous post , we started with some tips to keep your online social life in order. Among many other tips, we've covered how to track your comments, manage your privacy, advised you on managing your online passwords and finding the right Gravatar. As you can see, those tips are for the "beginner" online socialist. Here are some more to help you become a power user of social media and networking sites.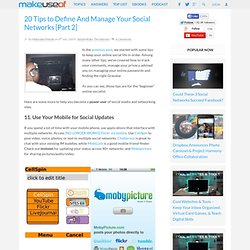 Cool Websites, Software and Internet Tips
i am using this site alot at the moment, great for helpful tips and useful sites. by boboesq Aug 5
Killer Tech Tips
Today | KillerStartups.com™
Yesterday | KillerStartups.com™
BuddyFox is an add-on for Firefox that will enable whoever installs it to engage other users in direct conversation. The idea is to let you chat with others and share both messages and links without having to leave the current browser window that you are visualizing and having to go elsewhere. That is always time-consuming and even infuriating, because sometimes you end up losing seconds that then turn into minutes, and if you were to sum all these together you would discover why your productivity took a turn for the worse at the end of the day. You don't have to pay anything in order to download and install the add-on. All you have to do is create an account by providing some prototypical information, and then you will be able to get the add-on and start chatting away from the comfort of your browser.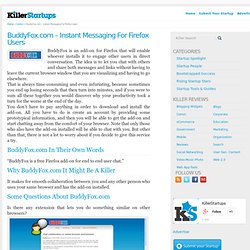 BuddyFox.com - Instant Messaging For Firefox Users | Visit buddy
BuddyFox
The new Firefox addon, quietly released just couple of days changes the entire way you can communicate with your friends online.
BuddyFox review – Instant messaging finally in Firefox | Geek wi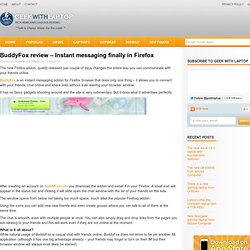 Clone Scripts of Popular Websites - PHP Scripts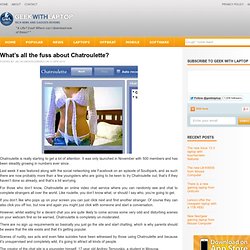 Chatroulette is really starting to get a lot of attention.
What's all the fuss about Chatroulette?
Chatroulette Trolls: Art of Trolling
H.G. WELLS BIRTHDAY - Google UFO Mystery, Crop Circles, & Unexpl
Fence Hopping
Monkey Rocker™
Handerpants™ - Underpants For Your Hands!
Videochan
VidoEmo - Emotional Video Unity
Tubaah: Home Page
Cartoon Network India - free online games & videos