Oil Scams, Poisoning & Pollution
'Gutter Oil': China Sounds Alarm Over Filthy Cooking Oil. BEIJING — Chinese call it "gutter oil" – a foul slop fished up from sewage drains or collected at restaurant back doors – and it's being used widely in the country's eateries.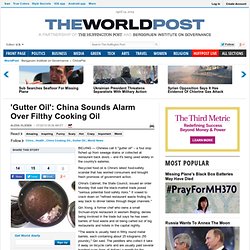 Recycled food oil is China's latest food-safety scandal that has worried consumers and brought fresh promises of government action. China's Cabinet, the State Council, issued an order Monday that said the black-market trade posed "serious potential food safety risks. " It vowed to crack down on "refined restaurant waste finding its way back to dinner tables through illegal channels. " Qin Xiong, a former chef who owns a small Sichuan-style restaurant in western Beijing, denies being involved in the trade but says he has seen barrels of food waste and oil being carted out of big restaurants and hotels in the capital nightly. "The waste is usually held in filthy round metal barrels, each containing about 25 kilograms (55 pounds)," Qin said.
Tar Sands vs. Clean Water: Eating the Earth for Cars. The tar sands production center in northern Alberta in Canada is one of the clearest signs that the easy-to-get oil is on the wane.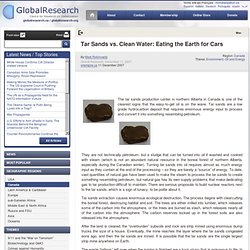 Tar sands are a low grade hydrocarbon deposit that requires enormous energy input to process and convert it into something resembling petroleum. They are not technically petroleum, but a sludge that can be turned into oil if washed and cooked with steam (which is not an abundant natural resource in the boreal forest of northern Alberta, especially during the Canadian winter). Turning tar sands into oil requires almost as much energy input as they contain at the end of the processing – so they are barely a "source" of energy. To date, vast quantities of natural gas have been used to make the steam to process the tar sands to create something resembling petroleum, but natural gas has its own supply problems that make dedicating gas to tar production difficult to maintain. UPDATE 2-Canada, Alberta seek to assuage oil sands critics. Peter Montague: Why Fracking and Other Disasters Are So Hard to Stop.
A new report offers compelling evidence that fracking for natural gas is killing domestic animals like horses, cattle, goats, sheep.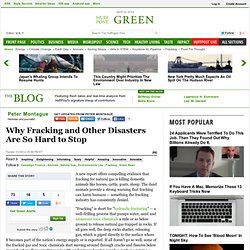 The dead animals provide a strong warning that fracking can harm humans -- something the fracking industry has consistently denied. "Fracking" is short for "hydraulic fracturing" -- a well-drilling process that pumps water, sand and numerous toxic chemicals a mile or so below ground to release natural gas trapped in rocks.
Pollution in India. The Year In Dirty Energy: Money, Corruption, And Misinformation. Revealed: the child victims of pesticide poisoning in India - News. A panorama of rolling hills distinguishes the landscape of Kasaragod, a northern district of the Indian state, Kerala.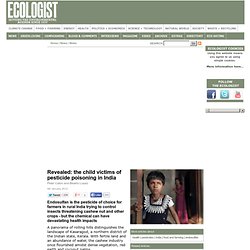 With fertile land and an abundance of water, the cashew industry once flourished amidst dense vegetation, red earth and coconut palms. These forested valleys are home to rural communities still living off the land, such as Mamatha's family who collect betel-nuts as their main source of income. The household of six adult siblings and their elderly father live in a small, overcrowded cottage, which they may have to sell to fund a series of operations that will remove the tumour distorting Mamatha's face. Himalayas in danger of becoming a giant rubbish dump | Suzanne Goldenberg | Environment. The trash dumpsite in the Khumbu.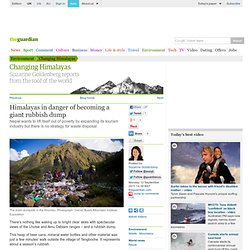 Photograph: Daniel Byers. /Mountain Institute Expedition There's nothing like waking up to bright clear skies with spectacular views of the Lhotse and Amu Dablam ranges – and a rubbish dump. Deep Gulf Drilling Is Booming And Digging Deeper Than Ever Before. Two hundred miles off the coast of Texas, ribbons of pipe are reaching for oil and natural gas deeper below the ocean's surface than ever before.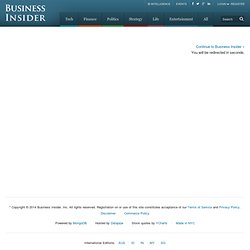 These pipes, which run nearly two miles deep, are connected to a floating platform that is so remote Shell named it Perdido, which means "lost" in Spanish. What attracted Shell to this location is a geologic formation found throughout the Gulf of Mexico that may contain enough oil to satisfy U.S. demand for two years. While Perdido is isolated, it isn't alone. Decades after Exxon Valdez, cleanup technology still same. Tons of Exxon Valdez oil still afflicts the beaches of Prince WilliamSound, just under the surface — more persistent than the lessons learned from a disaster that killed 250,000 seabirds and 3,000 sea otters.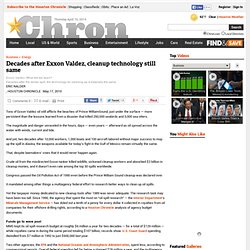 The magnitude and danger unraveled in the hours, days — even years — afterward as oil spread across the water with winds, current and tide. And yet, two decades after 10,000 workers, 1,000 boats and 100 aircraft labored without major success to mop up the spill in Alaska, the weapons available for today's fight in the Gulf of Mexico remain virtually the same. Lessons from Exxon Valdez spill have gone unheeded. The story of the last cataclysmic American oil spill has evolved over time into a straightforward tale of cause and effect: In 1989, a hard-drinking skipper ran his tanker aground in Alaska, and Exxon was unable to prevent crude from spreading along hundreds of miles of pristine shoreline.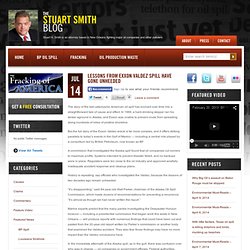 But the full story of the Exxon Valdez wreck is far more complex, and it offers striking parallels to today's events in the Gulf of Mexico — including a central role played by a consortium led by British Petroleum, now known as BP. A commission that investigated the Alaska spill found that oil companies cut corners to maximize profits. Systems intended to prevent disaster failed, and no backups were in place. Frequently asked questions. Still Flushed from Major Oil Spill Cleanup in China, ConocoPhillips Gets Green Light to Drill in Alaska.
There goes the neighborhood.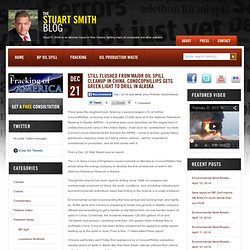 America's second-largest U.S. oil refiner, ConocoPhillips, is moving onto a beautiful 23,650-acre lot in the National Petroleum Reserve in Alaska (NPRA) – a pristine area once described as "the largest tract of undisturbed public land in the United States." It will soon be "undisturbed" no more. Conoco's move represents the first time the NPRA – home to wolves, grizzly bears, wolverines, migratory birds and half a million caribou – will be subjected to commercial oil production, and all that comes with it.
Russian oil spills spread devastation: Oil. USINSK, Russia -- On the bright yellow tundra outside this oil town near the Arctic Circle, a pitch-black pool of crude stretches toward the horizon.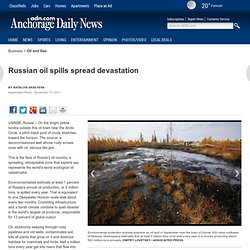 The source: a decommissioned well whose rusty screws ooze with oil, viscous like jam. This is the face of Russia's oil country, a sprawling, inhospitable zone that experts say represents the world's worst ecological oil catastrophe. Environmentalists estimate at least 1 percent of Russia's annual oil production, or 5 million tons, is spilled every year. That is equivalent to one Deepwater Horizon-scale leak about every two months. Crumbling infrastructure and a harsh climate combine to spell disaster in the world's largest oil producer, responsible for 13 percent of global output. Swedish Oil Spill a Preview of the Alaskan Arctic? Shell secures permits to drill for oil in America's Arctic waters in 2012. A Coast Guard crew conducts research in the Alaskan Arctic's waters in July 2011.
Photo courtesy NASA/Kathryn Hansen. Third Alaska North Slope oil spill in a week. Small oil spills on the North Slope are continuing to keep BP Alaska crews and state environmental officials busy this summer. The company has had to deal with three small spills in just the last week, events that appear to be related to maintenance and testing activities. BP Exploration Alaska spokesman Steve Rinehart said Monday all three are still under investigation by company experts so it's not clear whether corrosion -- a major issue for the aging oil field -- is to blame. But summer is typically the time oil field maintenance and associated testing of facilities is at its height. Polluted Ocean Photos. Alaska Oil Spill Fuels Concerns Over Arctic Wildlife, Future Drilling. March 20, 2006 A recent spill of about 267,000 gallons (1 million liters) of oil in the tundra of Alaska's North Slope is raising a new round of questions from environmental groups about proposed plans to open more land in the region to oil drilling.
The North Slope region of Alaska (map) borders the Arctic Ocean and contains most of the state's petroleum reserves. It is also home to thousands of migratory birds, caribou, and other creatures. The oil spill happened in the Prudhoe Bay oil field in late February, but it was not discovered for five days. Alaska beaches still have oil from 1989 spill.
An engineering professor has figured out why oil remains trapped along miles of gravel beaches more than 20 years after the Exxon Valdez tanker disaster in Prince William Sound. Skip to next paragraph Subscribe Today to the Monitor Click Here for your FREE 30 DAYS ofThe Christian Science MonitorWeekly Digital Edition An estimated 20,000 gallons of crude remain in Prince William Sound, even though oil remaining after the nearly 11-million-gallon spill had been expected to biodegrade and wash away within a few years. The problem: The gravelly beaches of Prince William Sound are trapping the oil between two layers of rock, with larger rocks on top and finer gravel underneath, according to Michel C. BP fined $25 million over Alaska oil spill.
EXXON VALDEZ OIL SPILL: Ten Years Later. Alaska Oil Spill: Trans-Alaska Pipeline Shuts Down 800 Mile Area In North Slope. Alaskan oil pollution. Alaska BP oil spill: 4,200 gallons spills onto the tundra. Nigerian Oil. Oil Spill Moves Toward Nigerian Coast. Coastal villages in Nigeria protest as crude oil washes ashore. Nigerian oil pollution. Nigeria oil spill 'could hit fisheries' Shell to Blame for Massive Nigerian Oil Spill. Oil spills and violence plague Shell operations in Nigeria: Oil.
Amazon Rainforest News: Chevron appeals $9.5bn fine. Ecuador court upholds $18bn penalty against Chevron | Business. Chevron fined $8 billion for Amazon pollution - ECUADOR.
---