FutureHope
People power transforms the web in next online revolution | Technology | The Observer. In July 2004, US cinema advertisements for Halo 2, the science fiction computer game, briefly carried the address for a website - ilovebees.com - which appeared to belong to a beekeeper who had mysteriously disappeared.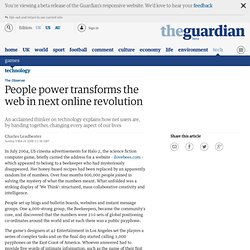 Her honey-based recipes had been replaced by an apparently random list of numbers. Over four months 600,000 people joined in solving the mystery of what the numbers meant. What unfolded was a striking display of 'We Think': structured, mass collaborative creativity and intelligence. People set up blogs and bulletin boards, websites and instant message groups.
One 4,000-strong group, the Beekeepers, became the community's core, and discovered that the numbers were 210 sets of global positioning co-ordinates around the world and at each there was a public payphone. The Web Turns 20: Linked Data Gives People Power, Part 1 of 4. Editor's Note: The World Wide Web went live 20 years ago this month, on a single computer in Geneva, Switzerland.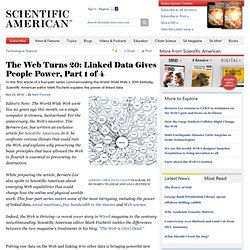 For the anniversary, the Web's inventor, Tim Berners-Lee, has written an exclusive article for Scientific American. In it, he confronts various threats that could ruin the Web, and explains why preserving the basic principles that have allowed the Web to flourish is essential to preventing its destruction. While preparing the article, Berners-Lee also spoke to Scientific American about emerging Web capabilities that could change how the online and physical worlds work.
The People Power Revolution in the Philippines. The Power of Active Nonviolence and Truth Movements Author: Richard Deats B eginning with the assassination in l983 of the popular opposition leader Senator Benigno (Ninoy) Aquino, the movement against Marcos grew rapidly.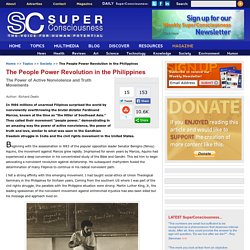 Imprisoned for seven years by Marcos, Aquino had experienced a deep conversion in his concentrated study of the Bible and Gandhi. Earth Hour. Looking back at the year of 'people power' The Emergence of People Power in a Young Democracy (Special Analysis) We've all heard the phrase that "perception is (a big part of) reality."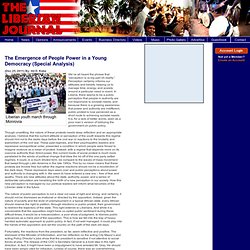 Perception certainly informs our attitudes and beliefs, helping us to manage time, energy, and anxiety around a particular need or event. In Liberia, there seems to be a public perception that people in authority are not responsive to societal needs, and because there is a growing awareness that power and authority are indifferent, public protest is now perceived as a short route to achieving societal needs. It is, for a lack of better words, seen as a poor man's version of lobbying the government on public policy.
Internet Website News: Latest. Natalia Radzina of Charter97, a Belarusian news website whose criticism of the government is often censored, was attending an OSCE-organized conference in Vienna on the Internet and media freedom in February 2013 when she ran into someone she would rather not have seen: a member of the Operations and Analysis Centre, a Belarusian government unit that coordinates Internet surveillance and censorship.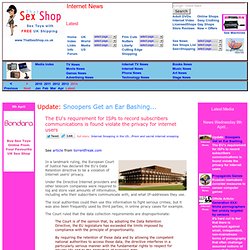 It is entities like this, little known but often at the heart of surveillance and censorship systems in many countries, that Reporters Without Borders is spotlighting in this year's Enemies of the Internet report, which it is releasing, as usual, on World Day Against Cyber-Censorship (12 March). Identifying government units or agencies rather than entire governments as Enemies of the Internet allows us to draw attention to the schizophrenic attitude towards online freedoms that prevails in in some countries.
Columns / B S Raghavan : Ringing in the era of people's power. Without any exaggeration, 2011 has indeed been a turning point, a cathartic experience, giving a foretaste of the invincible power people have for bringing about whatever change they want.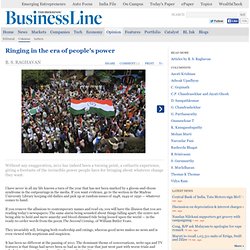 I have never in all my life known a turn of the year that has not been marked by a gloom-and-doom syndrome in the outpourings in the media. If you want evidence, go to the section in the Madras University Library keeping old dailies and pick up at random issues of 1948, 1949 or 1950 — whatever comes to hand. If you remove the allusions to contemporary names and read on, you will have the illusion that you are reading today's newspapers: The same alarm being sounded about things falling apart, the centre not being able to hold and mere anarchy and blood-dimmed tide being loosed upon the world — in the ready-to-order words from the poem The Second Coming, of William Butler Yeats.
We Are Power Shift. Learn about nonviolent conflict and civil resistance. 2011: The year of people power. TIME finally owns up to people power. It's that TIME of the year again—ha!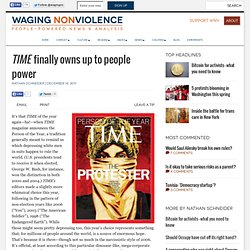 —when TIME magazine announces the Person of the Year, a tradition generally meant to remind us which depressing white men in suits happen to rule the world. (U.S. presidents tend to receive it when elected. George W. Bush, for instance, won the distinction in both 2000 and 2004.) Politics and the Power of the Web. According to research by Hanover Communications, the Labour backbench MP Tom Watson had a higher media profile in 2011 than every shadow minister, except for Ed Miliband and Ed Balls.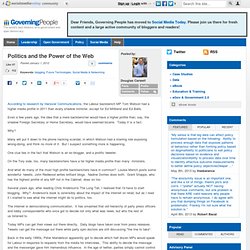 Even a few years ago, the idea that a mere backbencher would have a higher profile than, say, the shadow Foreign Secretary or Home Secretary, would have seemed bizarre. Today it is a fact. Why? Many will put it down to the phone hacking scandal, in which Watson had a starring role exposing wrong-doing, and think no more of it. Some Real Issues for 2012. The presidential election may be grabbing headlines, but the true rallying cry for 2012 is to struggle and organize around those issues that a president might take seriously, to stake out positions that would benefit what used to be called the working class (and now goes by "the 99 percent") and to garner enough political will and power to pressure the president and Congress to move resolutely on the issues that matter.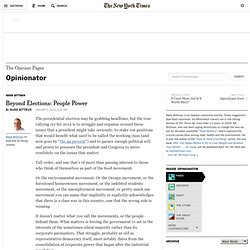 Tall order, and one that's of more than passing interest to those who think of themselves as part of the food movement. Or the environmental movement. Or the Occupy movement, or the foreclosed homeowners movement, or the indebted students movement, or the unemployment movement, or pretty much any movement you can name that implicitly or explicitly acknowledges that there is a class war in this country, one that the wrong side is winning. It doesn't matter what you call the movements, or the people behind them. And here's to the year of people power. Cartoon: Cathy Wilcox.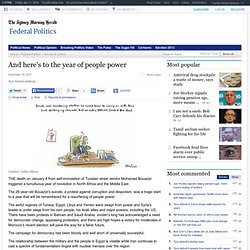 THE death on January 4 from self-immolation of Tunisian street vendor Mohamed Bouazizi triggered a tumultuous year of revolution in North Africa and the Middle East. The 26-year-old Bouazizi's suicide, a protest against corruption and despotism, was a tragic start to a year that will be remembered for a resurfacing of people power. The awful regimes of Tunisia, Egypt, Libya and Yemen were swept from power and Syria's leader is under siege from his own people, his Arab allies and major powers, including the US. People power comes to Russia. Opposition protest rallies across Russia Dozens arrested across Russia as opposition party calls for mass rallies around the country. 11, 2011 VLADIMIR PUTIN'S return to the Kremlin as president next year may not be the smooth limousine ride he expects, judging from growing protests across Russia against the way his ruling party hijacked recent parliamentary elections. People Power of Santa Cruz County - News - People Power Launches New Website Services.
Follow us on Twitter, Google Plus, and Facebook Published Friday, December 9, 2011 People Power launched a redesigned and improved website at www.peoplepowersc.org to provide new services to its members and community. The new website allows People Power members and the public to stay aware and informed of current issues related to transportation, the environment, and sustainability. Sustainability News.
What are the prospects for sustaining high-quality groundwater? Intensive agriculture practices developed during the past century have helped improve food security for many people but have also added to nitrate pollution in surface and groundwaters. New research has looked at water quality measurement over the last 140 years to track this problem in the Thames River basin. The NERC-funded study, led by the University of Bristol's Department of Civil Engineering, has looked at nitrate transport from agricultural land to water in the Thames basin.
The team used a simple model to estimate the amount of nitrate able to leach from soils to the groundwater based on land use practices along with an algorithm that determined the route nitrate would take to reach surface or groundwater from agricultural areas. Agro-ecology methods are key to food security. Agro-ecological farming methods, not industrial-scale agriculture will be needed to ensure food security and protect food supplies from the impacts of climate change, argues Olivier De Schutter, UN Special Rapporteur on the Right to Food. He challenges the widely held view that food production needs to be scaled up to feed a growing population, saying that such a strategy overlooks climate change as well as how food is produced, by whom and for whom. Agro-ecology attracted interest during negotiations at the COP 17 climate change conference in Durban, South Africa, says De Schutter, and provides an opportunity to tie together the food security and climate change agendas.
The seriousness of food crises "is needed to re-inject urgency into climate talks", and an awareness of climate change can keep food security discourse on the right track. Climate change is already affecting the global food supply, creating food shortages and famine. Durban talks: how Connie Hedegaard got countries to agree on climate deal | Environment. Connie Hedegaard, the EU's climate chief, has been hailed the hero of the Durban meeting that reached an unexpectedly solid outcome in the early hours of Sunday . "She is very, very good and we are very lucky to have her," says Chris Huhne, the UK energy and climate change secretary. "She held everything together in a very impressive manner – a class act. " Hedegaard, below, once the youngest person elected to the Danish parliament, was the architect of the EU plan to gather developed and developing economies together for the first time in a legally binding agreement to cut greenhouse gas emissions.
A deal was struck that met nearly all of the EU's aims, satisfied most developing countries and even brought the US on board. In doing so, Hedegaard saved the UN process of negotiations, which without a deal at Durban would have fallen apart. Which nations are really responsible for climate change - interactive map | Environment. Uld the desert sun power the world? | Environment. Electrification of everything.