Autodidactism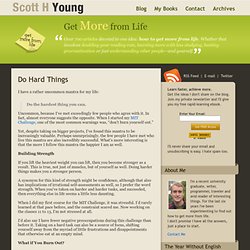 Do Hard Things
I have a rather uncommon mantra for my life: Do the hardest thing you can. Uncommon, because I've met exceedingly few people who agree with it.
Developing an Appetite for Hard Ideas
Richard Feynman, professor and Nobel-prize winning physicist purportedly only had an IQ of 125 . Smart, but hardly in the rarefied spectrum we normally consider for genius. This trivia is usually brought up to show the ridiculousness of IQ testing.
How to Self-Educate pt. 1 « Self Educating Times
Ralph Dumain: "The Autodidact Project": Study Guides: Thinking Critically About Critical Thinking
by Ralph Dumain "Condescension, and thinking oneself no better, are the same. To adapt to the weakness of the oppressed is to affirm in it the pre-condition of power, and to develop in oneself the coarseness, insensibility and violence needed to exert domination. . . " — Theodor Adorno, Minima Moralia (London: Verso, 1987), end of section 5 (p. 26) "The weak points in the abstract materialism of natural science, a materialism that excludes history and its process, are at once evident from the abstract and ideological conceptions of its spokesmen, whenever they venture beyond the bounds of their own speciality." — Karl Marx, Capital , Vol.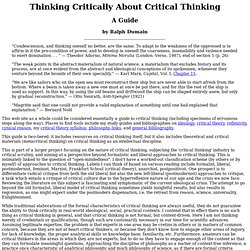 Ralph Dumain: "The Autodidact Project": EXTERNAL LINKS
"THE AUTODIDACT PROJECT" by Ralph Dumain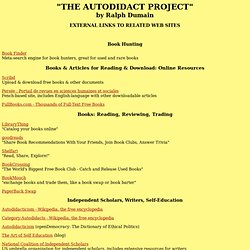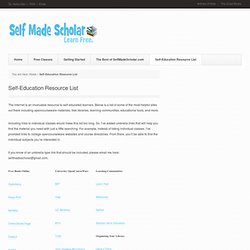 The internet is an invaluable resource to self-educated learners. Below is a list of some of the most helpful sites out there including opencourseware materials, free libraries, learning communities, educational tools, and more. Including links to individual classes would make this list too long.