USA
Where is Obama's support of Syrian democracy?
As Bashar al-Assad reverts to his family pedigree and continues what has become a brutal, methodical, and systematic crackdown on unarmed pro-democracy protesters, it seems hard to account for the Obama administration's rhetorical gentleness toward him. Consider: The Syrian regime of Assad pere et fils has been an implacable enemy of Israel since its Baathist inception 40 years ago, and has long played host to an alphabet soup of anti-Israel Palestinian resistance groups branded as terrorists by the US. Indeed, the Assad regime has been a charter member of the US government's small and exclusive list of state sponsors of terrorism since 1979. And even if many of the groups harboured by Syria have long since faded, the Syrian government has maintained its credentials by hosting, as it continues to do, the external leadership of Hamas.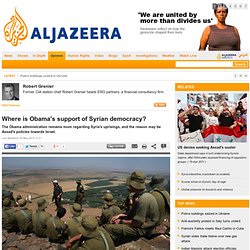 Guantánamo Files - Lives in an American Limbo
Brennan Linsley/Associated Press The American prison at Guantánamo Bay still holds 172 detainees, most rated "high risk." These articles are based on a huge trove of secret documents leaked last year to the anti-secrecy organization WikiLeaks and made available to The New York Times by another source on the condition of anonymity. Military intelligence officials, in assessments of detainees written between February 2002 and January 2009, evaluated their histories and provided glimpses of the tensions between captors and captives. What began as a jury-rigged experiment after the 2001 terrorist attacks now seems like an enduring American institution, and the leaked files show why, by laying bare the patchwork and contradictory evidence that in many cases would never have stood up in criminal court or a . The documents meticulously record the detainees' "pocket litter" when they were captured: a bus ticket to Kabul, a fake passport and forged student ID, a restaurant receipt, even a poem.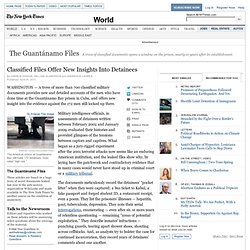 The International Federation of Journalists (IFJ) marks this year's World Press Freedom Day by focusing on the legacy of the terrorist attacks on 11 September in New York and Washington ten years ago. The Federation plans to launch a major campaign - Journalism in the Shadow of Terror- to consider the impact of those terrible events and to call for a reversal of the tide of legal and official intimidation of journalism and attacks on civil liberties that has followed the events of 2001. "The last ten years have seen an alarming erosion of press freedom as governments adopted a hard line in the fight against terror," said Jim Boumelha, IFJ President. "There is no doubt that journalists have been among the prominent victims of a widespread assault on the democratic rights of all citizens and this has to change."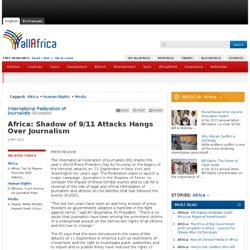 Africa: Shadow of 9/11 Attacks Hangs Over Journalism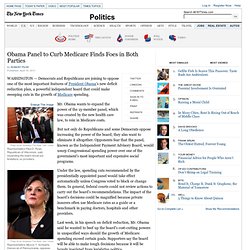 Mr. Obama wants to expand the power of the 15-member panel, which was created by the new health care law, to rein in Medicare costs. But not only do Republicans and some Democrats oppose increasing the power of the board, they also want to eliminate it altogether. Opponents fear that the panel, known as the Independent Payment Advisory Board, would usurp Congressional spending power over one of the government's most important and expensive social programs. Under the law, spending cuts recommended by the presidentially appointed panel would take effect automatically unless Congress voted to block or change them. In general, federal courts could not review actions to carry out the board's recommendations.
Medicare Panel Runs Into Bipartisan Opposition
A report that Standard and Poor's has lowered its US credit outlook from "stable" to "negative" jolted the New York Stock Exchange and fueled calls for Congress and the White House to come to terms on a solution to America's soaring debt. Skip to next paragraph Subscribe Today to the Monitor Click Here for your FREE 30 DAYS of The Christian Science Monitor Weekly Digital Edition While maintaining its AAA rating on US debt , the rating agency added a cautionary note due to the nation's "rising government indebtedness" – and the prospect that Congress and the White House will not deal with it.
US credit rating: Congress has many debt plans, but will it heed warning?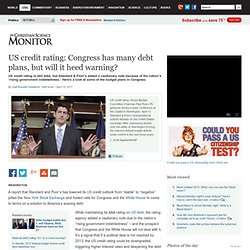 Gitmo in the Heartland
On March 7, when president Barack Obama signed an executive order (E0) that varnishes the framework of indefinite detention without trial, he put the final nail in the coffin of his day-two promise to close Guantanamo. Those detainees who, in the government's view, can not be tried but are too dangerous to release will continue to be subject to "law of war detention" because they are deemed by official reviewers "in effect, [to] remain at war with the United States". This means that Guantanamo can remain open as long as the "war on terror" continues. Not only is there no end in sight, no one is even speculating about what the end might look like.
Guantanamo is an evolutionary experiment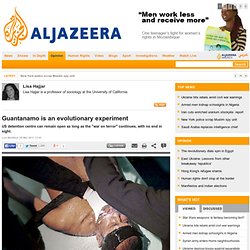 29 March 2011 Last updated at 21:23 GMT Virginia Tech shut the building where most of the killings occurred for months after the shooting The US government has fined Virginia Tech university $55,000 (£34,413) for failing promptly to warn students at the start of a 2007 shooting massacre. The education department said the school broke federal law when it waited two hours after the first killings to warn students of a gunman on campus.
Virginia Tech fined over 2007 campus shooting response
First Big Coal Broke the Union. Then It Broke This Town.
Matt Eich/Luceo Images Read more: Kevin Drum on how screwing unions screws the middle class , and 11 charts that explain everything that's wrong with America . From a chair on the porch of her home in a hollow deep in the Appalachians, Lora can see the top of Montcoal Mountain being blasted off. The explosions a mile and a half away ruffle her curtains, rattle family photos in her living room, and may be why her walls are laced with cracks. A fine gray dust settles on the steps as fast as she can sweep it off. The noise and "fly rock" raining down have forced her daughter and dozens of neighbors to sell their houses and move away.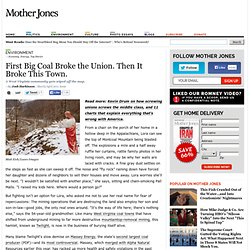 In a distinct echo of the tactics they pursued to encourage US intervention in the Balkans and Iraq, a familiar clutch of neo-conservatives appealed Friday for the United States and NATO to "immediately" prepare military action to help bring down the regime of Libyan leader Muammar Gaddafi and end the violence that is believed to have killed well over a thousand people in the past week. The appeal, which came in the form of a letter signed by 40 policy analysts, including more than a dozen former senior officials who served under President George W. Bush, was organised and released by the Foreign Policy Initiative (FPI), a two-year-old neo-conservative group that is widely seen as the successor to the more-famous – or infamous – Project for the New American Century (PNAC).
US neo-cons urge Libya intervention - Features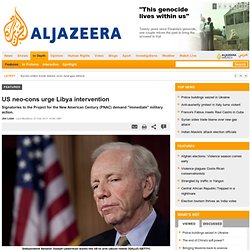 The Palestine Papers reveal the conversations between US and PA officials in the days before the vote [EPA] On October 2, 2009, the UN Human Rights Council was widely expected to pass a resolution supporting the Goldstone Report, the UN's probe of war crimes committed during Israel's war in Gaza in December 2008 and January 2009. The Council instead agreed to delay a vote on the report until March 2010, following major reservations expressed by the Palestinian Authority, the United States and Israel. A UNHRC endorsement of the report would have brought Israeli officials one step closer to prosecution before a war crimes tribunal, an event many Palestinians were anxious to see.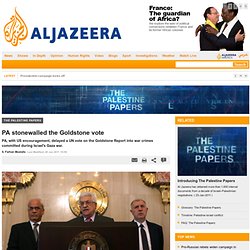 PA stonewalled the Goldstone vote - The Palestine Papers
As Arabs protest, Obama administration offers assertive support
The Obama administration is openly supporting the anti-government demonstrations shaking the Arab Middle East, a stance that is far less tempered than the one the president has taken during past unrest in the region. As demonstrations in Tunis , Cairo and Beirut have unfolded in recent days, President Obama and his senior envoys to the region have thrown U.S. support clearly behind the protesters, speaking daily in favor of free speech and assembly even when the protests target longtime U.S. allies such as Egypt. Secretary of State Hillary Rodham Clinton said Wednesday that "the Egyptian government has an important opportunity . . . to respond to the legitimate needs and interests of the Egyptian people." She urged "the Egyptian authorities not to prevent peaceful protests or block communications, including on social media sites." Asked whether the administration supports Egyptian President Hosni Mubarak, White House press secretary Robert Gibbs replied only: "Egypt is a strong ally."
Redistricting 101: Eight facts about redrawing the US political map - How could reapportionment affect the next presidential election?
An elections observer checks a ballot during vote recounting at the Broward County Emergency Operations Center in Plantation, Florida November 16, 2000. (Andy Nelson/The Christian Science Monitor) The number of representatives a state has in the House has a direct bearing on the number of votes a state has in the Electoral College. Following apportionment, states that voted for Barack Obama for president in 2008 lost six seats in Congress and hence six electoral votes, while states that voted for John McCain gained six. Also, depending on who moves into a state, reapportionment may signal a shift in a state's overall political hue – for example, from relatively blue (Democratic) to relatively red (Republican).
Representative Gabrielle Giffords and 18 Shot Near Tucson
James Palka/Associated Press Emergency personnel used a stretcher to carry Representative Gabrielle Giffords outside a shopping center in Tucson, Ariz. on Saturday. More Photos » Six of the victims died, among them John M. Roll, the chief judge for the United States District Court for Arizona, and a 9-year-old girl, the Pima County sheriff, Clarence W. Dupnik, said.
Obama blasts Congress's limits on Guantánamo transfers
President Obama strongly objected on Friday to provisions of the 2011 Defense Authorization Act that prevent the military from transferring Guantánamo detainees to the US for trial. Skip to next paragraph Subscribe Today to the Monitor
When it comes to state politics, that possibility is more real than it has been in decades, thanks to the historic gains that Republicans made across the country in the midterm elections. Twenty-nine states will have Republican governors, and Republicans will hold nearly 700 seats in state legislatures, more than they have held since before World War II. They will not only get to have a hand in redrawing Congressional districts under the results of the 2010 census, but because of the dire condition of many state budgets, they will also have the opportunity to reshape priorities and spending in a way that will touch most aspects of Americans' lives, from the big (how they work, what they pay in taxes) to the small (where they buy their New Year's Champagne).
Power Shift Toward G.O.P. Resonates in 3 States