Syria
US funding Syrian opposition? - Inside Story. Cables released by Wikileaks have revealed that the US has been financing a Syrian oppsition group.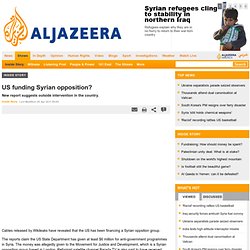 The reports claim the US State Department has given at least $6 million for anti-government programmes in Syria. The money was allegedly given to the Movement for Justice and Development, which is a Syrian opposition group based in London. Reformist satellite channel Barada TV is also said to have received funding. This all comes as 20,000 demonstrators gathered in Homs demanding Bashar al-Assad step down - a move his government claimed amounted to "armed insurrection".
'Deadliest day' in Syria uprising - Middle East. At least 75 people are reported to have been killed in Syria in the bloodiest day since the uprising began, as security forces use live ammunition and tear gas to quell anti-government protests across the country, according to Amnesty International, the London-based rights group.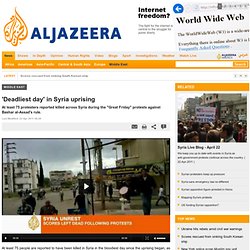 Syrian activists sent Al Jazeera a list naming 103 people from across the country who they said had been killed by security forces during the "Great Friday" protests. SANA, the official news agency, said that 10 people had died in clashes between protesters and passers-by, and that security forces had only used tear gas and water cannons. Syria Ministry: Unrest Is 'Armed Insurrection' - Radio Free Europe / Radio Liberty © 2011. Syria's Interior Ministry says the unrest in the country now amounts to an "armed insurrection," and says the activities of groups causing the unrest will not be tolerated.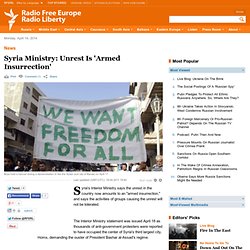 The Interior Ministry statement was issued April 18 as thousands of anti-government protesters were reported to have occupied the center of Syria's third largest city, Homs, demanding the ouster of President Bashar al-Assad's regime. The Reuters news agency quotes activists and witnesses in Homs as saying security forces fired shots and tear gas at protesters in Clock Square after a member of the security forces asked the demonstrators to leave.
UN chief slams Syria's crackdown on protests - Middle East. UN Secretary General Ban Ki-moon has described Syria's harsh crackdown on protests and use of deadly force against demonstrators as "unacceptable".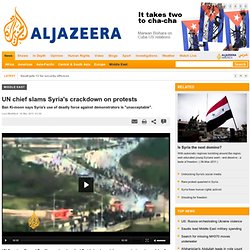 "The use of lethal force against peaceful demonstrators and their arbitrary arrests are unacceptable," Ban said on Friday, according his spokesman Martin Nesirky. Syrian security forces killed three protesters and wounded hundreds in the southern city of Daraa on Friday, rights groups said, as demonstrations erupted across the country in the first major show of discontent under Bashar al-Assad's rule. Syrian mourners call for revolt - Middle East. Thousands of people gathering in Syria's southern city of Daraa to mourn the deaths of two people killed by security forces have called for "revolution" in the country.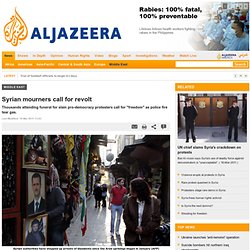 Police sealed off the city and fired tear gas to disperse the crowds who had turned out for the funerals of Wissam Ayyash and Mahmoud al-Jawabra, two of five people killed when security forces opened fire on protesters a day earlier. Mazen Darwish, a prominent Syrian rights activist, said police had sealed the city with people being allowed out but unable to enter and other activists reported dozens of arrests.
The latest crackdown follows protests on Friday where, inspired by the revolts sweeping through the Arab world, demonstrators had called for political freedoms and an end to corruption in Syria. Three to four thousand people leaving the city's Omari mosque after midday prayers chanted "God, Syria, Freedom" and slogans accusing the president's family of corruption, residents said.
---