Hegel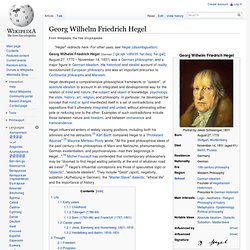 The birthplace of Hegel in Stuttgart , which now houses The Hegel Museum Georg Wilhelm Friedrich Hegel ( German: [ˈɡeɔɐ̯k ˈvɪlhɛlm ˈfʁiːdʁɪç ˈheːɡəl] ; August 27, 1770 – November 14, 1831) was a German philosopher , and a major figure in German Idealism . His historicist and idealist account of reality revolutionized European philosophy and was an important precursor to Continental philosophy and Marxism .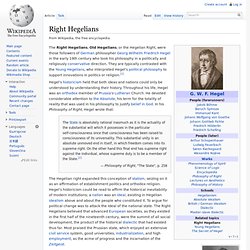 Right Hegelians
The Right Hegelians , Old Hegelians , or the Hegelian Right, were those followers of German philosopher Georg Wilhelm Friedrich Hegel in the early 19th century who took his philosophy in a politically and religiously conservative direction. They are typically contrasted with the Young Hegelians , who interpreted Hegel's political philosophy to support innovations in politics or religion. [ 1 ] Hegel's historicism held that both ideas and nations could only be understood by understanding their history.
The Young Hegelians , or Left Hegelians , were a group of German intellectuals who in the decade or so after the death of Georg Wilhelm Friedrich Hegel in 1831, wrote and responded to his ambiguous legacy. The Young Hegelians drew on his idea that the purpose and promise of history was the total negation of everything conducive to restriction of freedom and irrationality to mount radical critiques of first religion and then the Prussian political system. They ignored anti-utopian aspects of his thought that suggested the world has already essentially reached perfection. [ edit ] Left and Right Hegelianism The German philosophers who wrote immediately after the death of Hegel in 1831 can be roughly divided into the politically and religiously radical 'left', or 'young', Hegelians and the more conservative 'right', or 'old', Hegelians.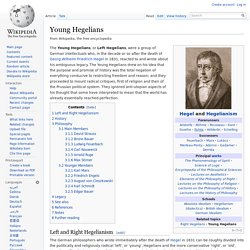 Young Hegelians
Friedrich Engels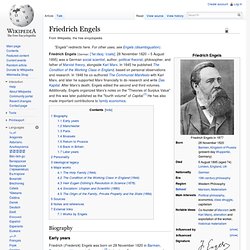 Friedrich Engels ( German: [ˈfʁiːdʁɪç ˈɛŋəls] ; 28 November 1820 – 5 August 1895) was a German social scientist , author , political theorist , philosopher , and father of Marxist theory , alongside Karl Marx . In 1845 he published The Condition of the Working Class in England , based on personal observations and research. In 1848 he co-authored The Communist Manifesto with Karl Marx, and later he supported Marx financially to do research and write Das Kapital .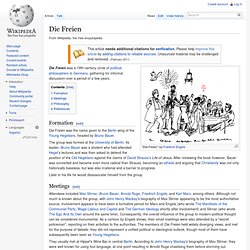 Die Freien was a 19th century circle of political philosophers in Germany , gathering for informal discussion over a period of a few years. [ edit ] Formation Die Freien was the name given to the Berlin wing of the Young Hegelians , headed by Bruno Bauer . The group was formed at the University of Berlin . Its leader, Bruno Bauer was a student who had attended Hegel 's lectures and was then asked to defend the position of the Old Hegelians against the claims of Strauss 's Life of Jesus .
Die Freien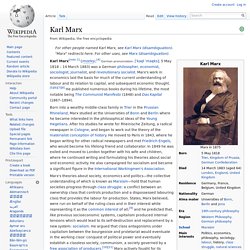 Karl Heinrich Marx ( German pronunciation: [kaːɐ̯l ˈhaɪnʀɪç ˈmaːɐ̯ks] , 5 May 1818 – 14 March 1883) was a Prussian - German philosopher and revolutionary socialist . His ideas played a significant role in the establishment of the social sciences and the development of the socialist movement. Marx's work in economics laid the basis for our understanding of labor and its relation to capital, and has influenced much of subsequent economic thought. [ 4 ] [ 5 ] [ 6 ] [ 7 ] He published numerous books during his lifetime, the most notable being The Communist Manifesto (1848) and Capital (1867–1894).
The Civil War in France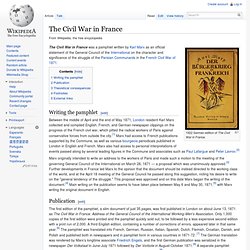 1922 German edition of The Civil War in France . The Civil War in France was a pamphlet written by Karl Marx as an official statement of the General Council of the International on the character and significance of the struggle of the Parisian Communards in the French Civil War of 1871 . [ edit ] Writing the pamphlet Between the middle of April and the end of May 1871, London resident Karl Marx collected and compiled English, French, and German newspaper clippings on the progress of the French civil war, which pitted the radical workers of Paris against conservative forces from outside the city. [ 1 ] Marx had access to French publications supported by the Commune, as well as various bourgeois periodicals published in London in English and French. Marx also had access to personal interpretations of events passed along by several leading figures in the Commune and associates such as Paul Lafargue and Peter Lavrov . [ 2 ]
Marx, the Young Hegelians, and the Origins of Radical Social Theory: Dethroning the Self (Modern European Philosophy) (9780521003803): Warren Breckman
Count August Cieszkowski (12 September 1814, Nowa Sucha – 12 March 1894, Wierzenica ) was a Polish philosopher, economist and social and political activist. His Hegelian philosophy influenced the young Karl Marx and action theorists . [ edit ] Biography Cieszkowski studied at the Jagiellonian University and in then, from 1832, at the University of Berlin where he became interested in Hegelianism through the lectures of Karl Ludwig Michelet , who became a lifelong friend.
August Cieszkowski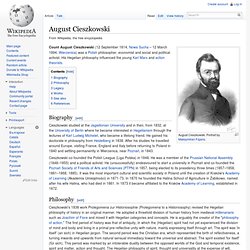 Edgar Bauer
Edgar Bauer (7 October 1820 – 18 August 1886) was a German political philosopher and a member of the Young Hegelians . He was the younger brother of Bruno Bauer . According to Lawrence S. Stepelevich, Edgar Bauer was the most anarchistic of the Young Hegelians, and "...it is possible to discern, in the early writings of Edgar Bauer, the theoretical justification of political terrorism." [ 1 ] German anarchists such as Max Nettlau and Gustav Landauer credited Edgar Bauer with founding the anarchist tradition in Germany. [ 2 ] In the mid-1840s, Marx' and Engels' critique of the Bauer brothers marked the beginning of their collaboration and an important stage in the development of Marxist thought. Edgar Bauer participated in the Revolution of 1848.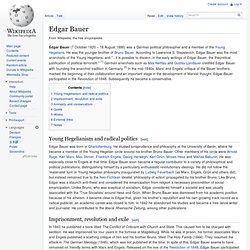 Benedetto Croce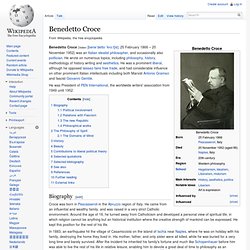 Benedetto Croce ( Italian: [beneˈdetto ˈkroːtʃe] ; 25 February 1866 – 20 November 1952) was an Italian idealist philosopher , and occasionally also politician . He wrote on numerous topics, including philosophy , history , methodology of history writing and aesthetics . He was a prominent liberal , although he opposed laissez-faire free trade , and had considerable influence on other prominent Italian intellectuals including both Marxist Antonio Gramsci and fascist Giovanni Gentile .
Giovanni Gentile ( Italian: [dʒoˈvanni dʒenˈtiːle] ; May 30, 1875 – April 15, 1944) was an Italian neo- Hegelian Idealist philosopher, a peer of Benedetto Croce . He described himself as 'the philosopher of Fascism ', and ghostwrote A Doctrine of Fascism (1932) for Benito Mussolini . He also devised his own system of philosophy, Actual Idealism . [ edit ] Life and thought Giovanni Gentile was born in Castelvetrano , Sicily . He was inspired by Italian intellectuals such as Mazzini , Rosmini , Gioberti , and Spaventa from whom he borrowed the idea of autoctisi , "self-construction", but also was strongly influenced by the German idealist and materialist schools of thought — namely Karl Marx , Hegel , and Fichte with whom he shared the ideal of creating a Wissenschaftslehre , theory for a structure of knowledge that makes no assumptions.
Giovanni Gentile
Filippo Tommaso Emilio Marinetti (22 December 1876 – 2 December 1944) was an Italian poet and editor, the founder of the Futurist movement. [ edit ] Childhood and adolescence Emilio Angelo Carlo Marinetti (some documents give his name as "Filippo Achille Emilio Marinetti") spent the first years of his life in Alexandria , Egypt , where his father (Enrico Marinetti) and his mother (Amalia Grolli) lived together more uxorio (as if married). His love for literature developed during the school years. At age seventeen he started his first school magazine, Papyrus ; the Jesuits threatened to expel him for publicizing Emile Zola 's scandalous novels in the school.
Filippo Tommaso Marinetti
The Founding and Manifesto of Futurism
Original publication in French : Le Figaro , Paris, February 20, 1909 (Italian version here ) This English-language translation COPYRIGHT ©1973 Thames and Hudson Ltd, London. All rights reserved. Source for translation by R.W. Flint reproduced below:
Futurist Manifesto
The Futurist Manifesto , written by the Italian poet Filippo Tommaso Marinetti , was published in the Italian newspaper Gazzetta dell'Emilia in Bologna on 5 February 1909, then in French as "Manifeste du futurisme" in the newspaper Le Figaro on 20 February 1909. It initiated an artistic philosophy , Futurism , that was a rejection of the past, and a celebration of speed, machinery, violence, youth and industry; it was also an advocation of the modernisation and cultural rejuvenation of Italy . [ edit ] Contents The limit of the Italian literature at the end of the " Ottocento " (19th century), its lack of strong contents, its quiet and passive laissez faire , are fought by futurists ( see art. 1, 2, 3 ), and their reaction includes the use of excesses intended to prove the existence of a dynamic surviving Italian intellectual class.
Fascist manifesto
The Manifesto of the Italian Fasci of Combat ( Italian : Il manifesto dei fasci italiani di combattimento ) was the initial declaration of the political stance of the founders of Italian Fascism . The Manifesto that was written by national syndicalist Alceste De Ambris and Futurist movement leader Filippo Tommaso Marinetti . [ 1 ] [ edit ] Contents of the Fascist Manifesto The manifesto (published in " Il Popolo d'Italia " on June 6, 1919) is divided into four sections, describing Fascist objectives in political, social, military and financial fields. [ 2 ] Politically, the manifesto calls for:
It calls for greater democracy! This is also key in showing the link between the Socilism (of the early 19th cen.) and the devolpment of Fascism. by bob_dylan14 Apr 7
Alceste De Ambris
This guy is the link! Syndictist and a Fascist. Amazing. by bob_dylan14 Apr 7
The Doctrine of Fascism
Mussolini  - THE DOCTRINE OF FASCISM
Actual idealism
Alexandre Kojève
Humboldt University of Berlin