Music
Songza - Listen to Music Curated by Music Experts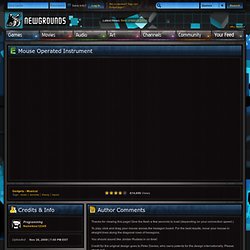 Mouse Operated Instrument
Thanks for viewing this page! Give the flash a few seconds to load (depending on your connection speed.) To play, click and drag your mouse across the hexagon board. For the best results, move your mouse in straight lines along the diagonal rows of hexagons. You should sound like Jordan Rudess in no time!
▶ 5 Seconds of Every #1 Billboard Hot 100 Hit From 1993-2011 by AnthonyDC
The Sound Matrix was a clever bit of flash that was mailed to me some time back. I later discovered that the file was originally composed by Andre Michelle. As per original instructions "Press SPACE key to clear. Right-Click for Copy & Paste to your blog, happy days, good time, comment if you LIKE!". Add This to Your Site <div align="center"><object width="600" height="600" codebase="http://download.macromedia.com/pub/shockwave/cabs/flash/swflash.cab#version=5,0,0,0" classid="clsid:D27CDB6E-AE6D-11cf-96B8-444553540000"><param value="http://www.sembeo.com/media/Matrix2.swf" name="movie"><param value="high" name="quality"><embed width="600" height="600" type="application/x-shockwave-flash" pluginspage="http://www.macromedia.com/shockwave/download/index.cgi?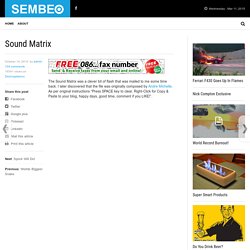 Sound Matrix | SEMBEO
▶ Halostep by Mart815
Free Music with Neverending Playlist
New! If you like Otomata, check out my new instrument Circuli by clicking here! Update: Click here to get Otomata for your iPhone / iPod / iPad!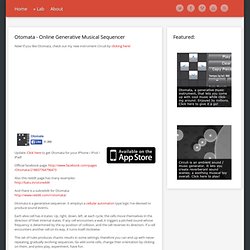 Otomata
div h1 401 - unauthorized p you're not authorized to access that div h1 404 - page not found p we're having trouble finding what you want div h1 500 - internal error p something went horribly wrong. what did you do?! #search.welcome .hero-unit .span6 h2 Watch music videos on jukesy! p Get started above by searching Last.fm for an artist, album, or track. Or browse from lists of popular artists and tracks below. .span3 h2 Coming Soon ul li tag/genre radio li Last.fm scrobbling li favorites //p.alpha-warning.span9 // i.icon-warning-sign // | Jukesy is a beta release.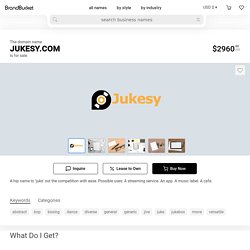 Jukesy - music player powered by youtube and last.fm
Gnod - The global network of dreams