Affiliate Marketing
Local Search Marketing Advice, Tips, and News | GetListed.org. Explore the Local Learning Center at your own pace by visiting each of the following sections. What you learn will empower you to make the right decisions in your online marketing and achieve the highest possible online visibility—turning the web into an incredible customer acquisition tool for your business. Your Website Local search optimization isn't just done on review sites. Building a Datafeed Site – Step 1. This is the first in a series of how to build a datafeed site.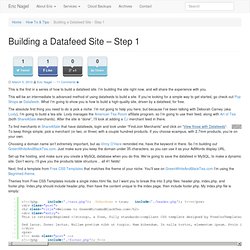 I'm building the site right now, and will share the experience with you. This will be an intermediate to advanced method of using datafeeds to build a site. If you're looking for a simple way to get started, go check out Pop Shops or Datafeedr. What I'm going to show you is how to build a high-quality site, driven by a datafeed, for free.
Design for Mobile: The One Billion Dollar iPhone App. Guide to Competitive Backlink Analysis. The author's posts are entirely his or her own (excluding the unlikely event of hypnosis) and may not always reflect the views of Moz.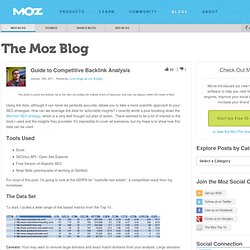 Using link data, although it can never be perfectly accurate, allows you to take a more scientific approach to your SEO strategies. How can we leverage link data for actionable insights? I recently wrote a post breaking down the Mormon SEO strategy, which is a very well thought out plan of action.. There seemed to be a lot of interest in the tools I used and the insights they provided. It's impossible to cover all scenarios, but my hope is to show how this data can be used.
The Lifecycle of an Internet Marketer | Mr Green. Ever wondered where you stood in the lifecycle of affiliate marketing?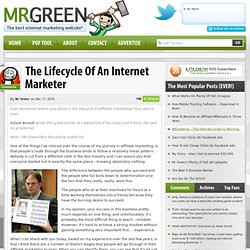 Your wait is over. Adam Bunch wrote this great article so I asked him if he could post it here. He said no problema! Note: I Mr Greenified this article a little bit. Products | Mozilla. The Anatomy of a Perfect Landing Page. The Making of The Millionaire's Magician. Last year, I stumbled upon a fascinating article in The New York Times about Steve Cohen, a magician who offered exclusive shows out of a suite at the Waldorf Astoria and was flown around the world to give private shows for heads of state, captains of industry and celebs.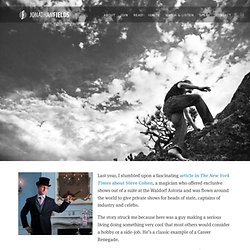 The story struck me because here was a guy making a serious living doing something very cool that most others would consider a hobby or a side-job. He's a classic example of a Career Renegade. So, I made a note to reach out to Steve to interview him.
---