Economie de la Turquie
Strict Standards: date(): It is not safe to rely on the system's timezone settings. You are *required* to use the date.timezone setting or the date_default_timezone_set() function. In case you used any of those methods and you are still getting this warning, you most likely misspelled the timezone identifier.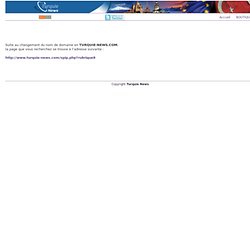 Economie - Turquie News
L'économie turque a connu une croissance de 8,8% au second trimestre 2011, confirmant ses performances depuis 2010, selon les données officielles publiées lundi par l'institut de la statistique (Tüik). La croissance turque avait déjà atteint 8,9% en 2010, dépassant les prévisions du gouvernement, qui tablait sur une progression d'environ 7,0%. Le Tüik a par ailleurs révisé à la hausse le taux record du premier trimestre 2011 de 11,0% à 11,6%. La Turquie, pays d'environ 73 millions d'habitants et 17e économie mondiale, conserve un des plus forts taux de croissance au monde. Le produit national brut (PNB) par habitant s'est chiffré à 10.079 dollars pour 2010, selon le Tüik, contre 8.590 dollars en 2009. En 2009, plongée dans la récession du fait de la crise mondiale, l'économie turque s'était contractée de 4,8%.
Flash Eco : Turquie: +8,8% du PIB au 2e trimestre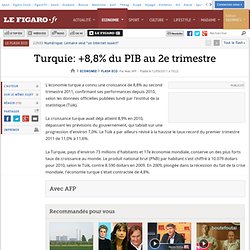 Six pays européens et la Turquie défient la crise globale, Actualités
Economie de la Turquie