Web Comics
Chester 5000 XYV » Archive » CS90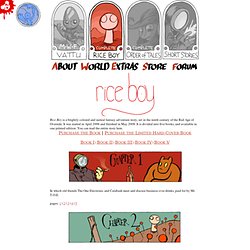 Rice Boy
Rice Boy is a brightly colored and surreal fantasy adventure story, set in the ninth century of the Red Age of Overside. It was started in April 2006 and finished in May 2008. It is divided into five books, and available in one printed edition.
Ellie on Planet X - Comics!
TREK! The Offspring | Kid With Experience
Mug de Triomphe
Romantically Apocalyptic | Webcomic
Bad to the CLONE
Nine Planets Without Intelligent Life : Bohemian Drive
diesel sweeties : robot webcomic and geeky music t-shirts
OVERCOMPENSATING: The Journal Comic With a Seething Disdain for Reality.