Crafts
Get flash to fully experience Pearltrees
I love the way the cherry trees outside my building bloom cheerfully each Spring. I wanted to bring the beauty of those cherry blossoms indoors so I made some out of tissue paper and to make them even more special I added LEDs
If the sun seems to peer right into your window, give it something pretty to look at -- and through.
Here is my first step-by-step tutorial... and I made it an easy one. I made these blocks for my mom and mother-in-law for Christmas and they loved them, so I thought I'd share. They are easy, although time consuming. And if you think they are just too much work... I would love to make them for you . Start with Modge Podge, scrapbook paper, blocks (I bought mine here) foam brush, and photos printed on a laser printer slightly smaller than the block.
I don't know what it's like in your neighborhood, but when I step outside here in Oakland, I sense it right away: Fall is in the air!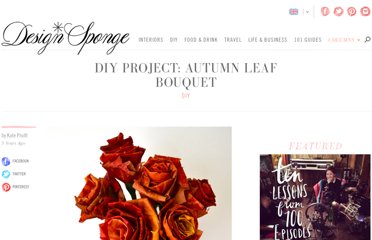 Welcome, . Please login or register . Login with username, password and session length
UPDATE: If you are here at All Things Thrifty for the first time, WELCOME!! Since I wrote this post about making a stencil I have found that making stencils are MUCH easier with my Silhouette Machine.
Here's another DIY project from our sweet friend, Sasha - from the The Gilded Bee . Be sure to check out her awesome shop full of handmade packaging lovelies.