60in60 Apple App Attack PETE&C 2012
ScratchWork. Side by Side (with Dropbox support) Description "The possibilities are endless here...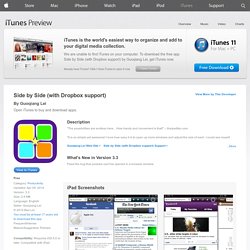 How handy and convenient is that! " Skitch for iPad. Description See something that sparks an idea?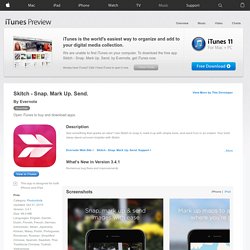 Use Skitch to snap it, mark it up with simple tools, and send it on in an instant. Your bold ideas stand out even brighter with Skitch. People everywhere use Skitch to help them visually share their thoughts with others. Evernote. Description Evernote is an easy-to-use, free app that helps you remember everything across all of the devices you use.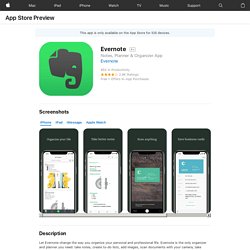 Stay organized, save your ideas and improve your productivity. Evernote lets you take notes, capture photos, create to-do lists, record voice reminders--and makes these notes searchable, whether are at home, at work, or on the go. Catch Notes. iAnnotate PDF. Description Use iAnnotate to read, mark up, and share PDF, DOC, PPT and image files!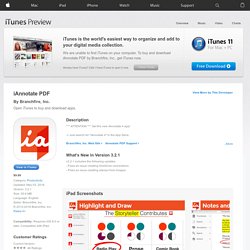 Join the over 1 million users worldwide who say iAnnotate is "an indispensable tool to have," and "the reason I bought an iPad." *Winner of the Tabby Awards for Best Productivity App and Best Collaboration App and Moxie Awards winner for Mobile App of the Year. GoodReader for iPad. Description GoodReader® is the super-robust PDF reader for iPad - the #1 selling non-Apple app for iPad in USA in 2010!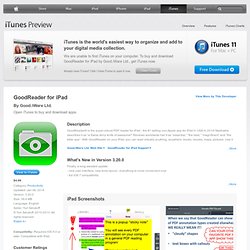 Mashable describes it as "a Swiss Army knife of awesome!" Reviews worldwide hail it as "essential," "the best," "magnificent" and "the killer app". With GoodReader on your iPad, you can read virtually anything, anywhere: books, movies, maps, pictures. Use it once and you'll be hooked. Office² Description Office², the most intuitive and straightforward office document tool available on the iPhone and iPod Touch, makes it easy to open, view, create and edit Word (DOC & DOCX), Excel (XLS & XLSX) and PowerPoint (PPT & PPTX) files right from your device!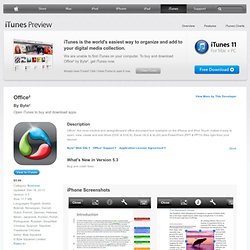 Office² now provides unrivaled support for document tracked changes. Office² also offers the most advanced solution for connecting you to all of your stored documents! Elements - Dropbox And Markdown Powered Text Editor. Producteev. Description "Producteev is the task management service of your dreams" - VentureBeat"Producteev is much more than a multiple-project to-do list" - GigaOM"Producteev is the Task-management service i've been longing for" - Techcrunch Consistently in the Mac App Store **top free productivity apps**, PRODUCTEEV for Desktop is the most popular app of the Producteev family apps.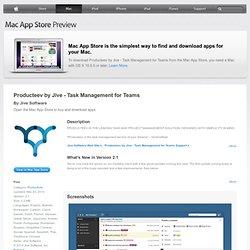 Akinator the Genie. Description With MyWorld, Akinator knows you better than even!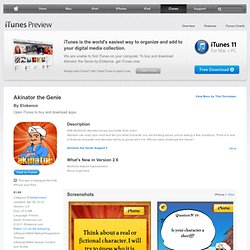 Akinator can read your mind and tell you what character you are thinking about, just by asking a few questions. Think of a real or fictional character and Akinator will try to guess who it is. Will you dare challenge the Genie? ************** NEW: TRY OUT THE MyWorld EXPERIENCE! Algebra Touch. Description Have you forgotten most of your algebra?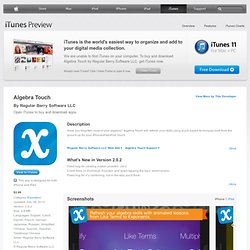 Algebra Touch will refresh your skills using touch-based techniques built from the ground up for your iPhone/iPad/iPod Touch. Say you have x + 3 = 5. You can drag the 3 to the other side of the equation. iReview Flashcards. Description In consolation for the end of Spring Break iReview Flashcards is free for a limited time.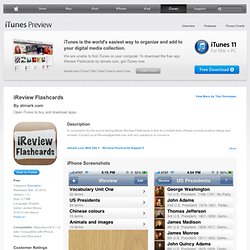 Please provide positive ratings and reviews. ScreenChomp. Description Share a great idea... Explain a tricky concept... Help kids with their homework... ScreenChomp for iPad helps you do it all. ShowMe Interactive Whiteboard. Description Turn your iPad into your personal interactive whiteboard! ShowMe allows you to record voice-over whiteboard tutorials and share them online. Board Cam LITE- live exhibitions of small features for iPhone 3GS, iPhone 4, iPhone 4S, iPod touch (4th generation), iPad 2 Wi-Fi and iPad 2 Wi-Fi + 3G on the iTunes App Store.
Description Board Cam transforms your iOS device* in an enhanced document camera or a whiteboard. Perform live dynamic presentations of objects, interact with images stored in your device, draw on a whiteboard or over video streaming** without changing of application... while you record videos! Record outstanding tutorials and how to videos. What you do is what they see. ASSIST. STUDYBLUE Flashcards. Description Study better. Learn faster. Get the grade you want. With StudyBlue's mobile app, you can make, study, and share mobile flashcards, study guides, and quizzes.
It's mobile, it's social, and it's free! Animoto Video Slideshows. Description Turn your camera roll into beautiful, pro-quality videos. Choose your music, photos, and clips and share amazing videos with your family and friends. "Supercharged videos more akin to music videos than slideshows." - The Wall Street Journal Features include: Audioboo.
Toontastic. Strip Designer. Puppet Pals HD. App Store - Sock Puppets. 1Password for iPhone. Opera Mini Web browser. Firefox Home. Diigo for iPad on the iTunes App Store.
360 Web Browser | Download Manager and Firefox Sync. Puffin Web Browser. InAWorld...Comedy. InAWorld...Drama. QR Scanner. Falling Stars by Trident Vitality Gum for iPhone 3GS, iPhone 4, iPhone 4S, iPod touch (3rd generation), iPod touch (4th generation) and iPad on the iTunes App Store. SoundHound. Box for iPhone and iPad. Dropbox. Byline (Universal)
Instapaper. Grocery Gadget - Shopping List. Posterous. Pearltrees. Qik Video for iPhone, iPod touch (4th generation), iPad 2 Wi-Fi, and iPad 2 Wi-Fi + 3G on the iTunes App Store.
---
blutz01 Feb 6 2012

Thats a great idea...might take a little while to implement...

bloodmandarin Feb 6 2012

Probably it would be to much to ask for an ordering after iPad and iPhone, would it?
---