60in60 Android Apps PETE&C 2012
Fast Burst Camera Lite
This is the fastest camera app available for Android. Fast Burst Camera is capable of taking 30 photos per second. ( on low-end devices, 5-10 photos per second is possible )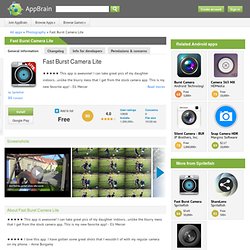 Time-Lapse - Lite
Adobe Photoshop Express - Apps on Android Market
Edit and share photos virtually anywhere. Touch to crop, rotate, adjust color, and add artistic effects.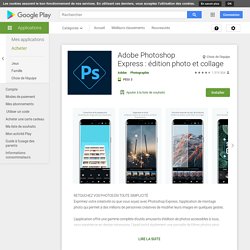 **ON SALE for $4.99 (50% off of the regular price of $9.99)!** This is the ONLY remote desktop app that streams the whole PC or Mac screen to your Android smartphone with smooth, high-res video and audio, allowing you to interact with your all applications, games, multimedia content, and files over Wi-Fi and 3G/4G networks.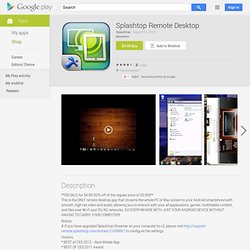 Splashtop Remote Desktop - Apps on Android Market
Skitch - Apps on Android Market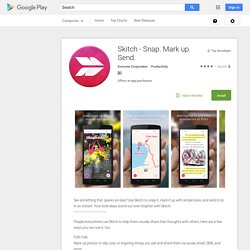 Make a point with Skitch.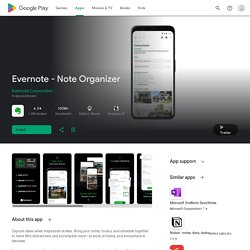 ★ New York Times 'Top 10 Must-Have App' (Las 10 aplicaciones imprescindibles), ganador: Premios Crunchies de TechCrunch, Mashable y Webbys. ★
Catch is a free note-taking app designed to make sure you never miss an idea.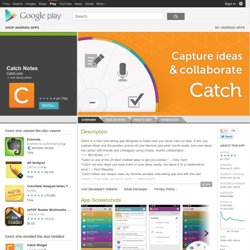 Catch - Apps on Android Market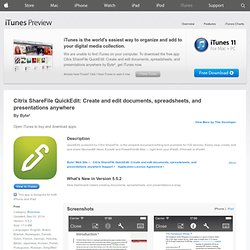 Description
Office² HD for iPad on the iTunes App Store
Producteev Droid
STUDYBLUE Flashcards - Apps on Android Market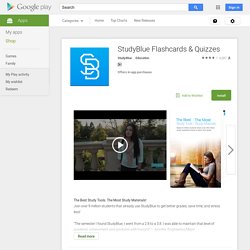 STUDYBLUE exists to make studying efficient and effective for every student, for free. This app is made for serious studiers; flip online flashcards for fast feedback on what you know, then re-study concepts you've not yet mastered using Study Filters.
Audioboo
1Password Reader - Apps on Android Market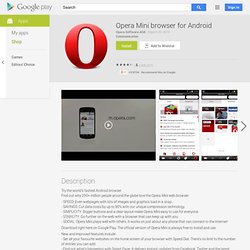 Try the world's fastest Android browser!
Opera Mini web browser - Apps on Android Market
Bookmark pages from the browser to your Diigo.com account.
Diigodroid
Puffin Web Browser - Apps on Android Market
Puffin Web Browser is wicked fast. Once users experience the thrill of using Puffin, regular mobile Internet just feels like torture.
QR Droid - Apps on Android Market
Change your smartphone into a powerful QR Code, Barcode, and Data Matrix scanning utility. Import, create, use, and share data in a matter of taps. This intuitive, full-featured and multi-language QR utility will change the way you interact with QR Codes and their smart actions and activities.
SoundHound - Apps on Android Market
Now Tablet Optimized!
Box - Apps on Android Market
Avec 5 Go gratuits, Box.com vous permet d'accéder facilement à vos fichiers et de les modifier, de partager des contenus et de rester en contact avec votre équipe en tout lieu et sur tout appareil. * Partagez vos fichiers importants avec vos collègues * Conservez votre présentation à portée de main * Annotez vos documents en déplacement * Affichez les mises à jour instantanément sur votre tableur
Simplify your life
Grocery Gadget Shopping List - Apps on Android Market
Qik Video - Apps on Android Market
CardioTrainer - Apps on Android Market
Posterous Spaces - Apps on Android Market