60in60 Android Apps PETE&C 2012
Time-Lapse - Lite
Adobe Photoshop Express - Apps on Android Market
Cymera — лучшее приложение для съемки портретов. Все для отличных фотографий — в одном приложении, сочетающем функции камеры и фоторедактора.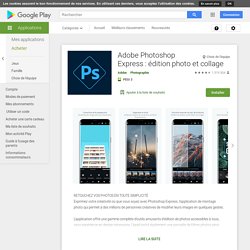 AccessToGo is the fastest mobile RDP remote desktop client for Microsoft operating systems. Its unique patent protected technology provides unparalleled usability and productivity by automatically resizing all Windows objects to optimal size. Get quick, easy & secure mobile RDP remote desktop access to your office or home PC and Microsoft Windows apps (e.g., Word, Excel, Acrobat) from smartphones and tablets.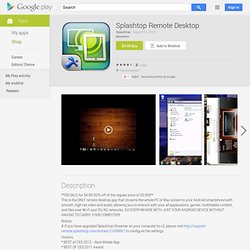 Splashtop Remote Desktop - Apps on Android Market
Skitch - Apps on Android Market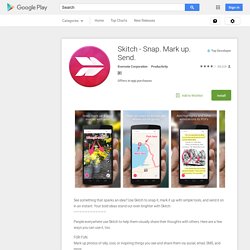 *Important* Ver 2.6 userThere is a bug in the program-supplied Evernote, there is a problem that can not log on Android OS1.6-2.2.Bug fixe.Please update.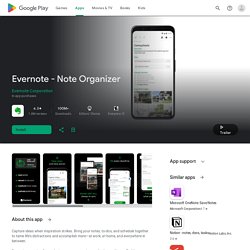 Advanced Task Killer is also known as ATK which is #1 task kill (manage) app. It is a tool to kill applications running. -Ignore List-One tap widget-Auto kill-Customize item height
Description
Office² HD for iPad on the iTunes App Store
As it says on the tin... Producteev on the Android Market!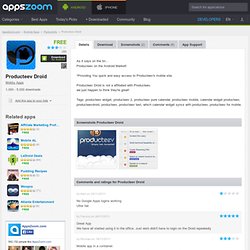 Producteev Droid
STUDYBLUE Flashcards - Apps on Android Market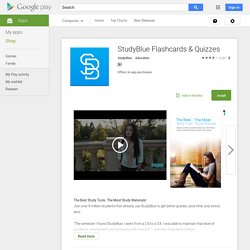 Master the 1000 most important GRE words with the highest-rated free flashcards for your Android phone. Practice every day to improve your vocab knowledge.
Audioboo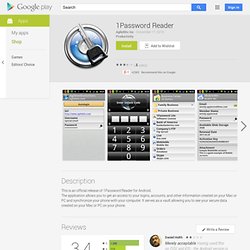 Speaktoit Assistant is a virtual assistant for Android devices. Your very own customizable Assistant awaits your commands – answering your questions, performing tasks, notifying you about important events, and making your daily routine easier (and, often, more fun along the way). The Speaktoit Assistant has been named:
1Password Reader - Apps on Android Market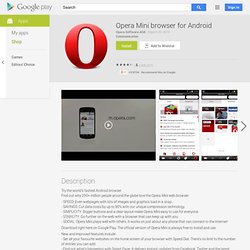 Boat Browser is a fast, smart and cool Mobile Browser; that brings an amazing Premium web experience.
Opera Mini web browser - Apps on Android Market
Bookmark pages from the browser to your Diigo.com account.
Diigodroid
Puffin Web Browser - Apps on Android Market
Easy Browser is a very fast, powerful, simple and handy browser. this is the right browser for you. Keep fast, keep simple, keep small, we believe simple is beautiful, our goal is to make the best browser experience on Android platform by native webkit engine.
QR Droid - Apps on Android Market
SCAN, DECODE, CREATE, SHARE with QR BARCODE SCANNER! Barcode Scanner & QR Scanner is completely free. Change your smartphone into a powerful QR Code, Barcode, and Data Matrix scanning utility.
SoundHound - Apps on Android Market
Hear original music & audio from the world's largest community of musicians, bands, producers and audio creators of all types.
The world's No. 1 mobile office today!# Installed on over 120 million devices in 205 countries# Over 40,000 registrations per day# No. 1 app in Google Play Business category
Simplify your life
Grocery Gadget Shopping List - Apps on Android Market
Qik Video - Apps on Android Market
CardioTrainer - Apps on Android Market
Posterous Spaces - Apps on Android Market