Hermes
HERMES : Greek God of Herds, Trade & Athletics, Herald of the Gods | Mythology, w/ pictures | Roman Mercury. HERMES was the great Olympian God of animal husbandry, roads, travel, hospitality, heralds, diplomacy, trade, thievery, language, writing, persuasion, cunning wiles, athletic contests, gymnasiums, astronomy, and astrology.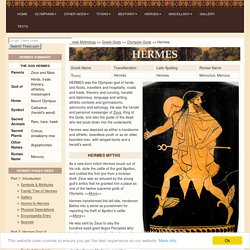 He was also the personal agent and herald of Zeus, the king of the gods. Hermes was depicted as either a handsome and athletic, beardless youth, or as an older bearded man. His attributes included the herald's wand or kerykeion (Latin caduceus), winged boots, and sometimes a winged travellers cap and chlamys cloak. Hermes the thief: the evolution of a ... - Norman Oliver Brown. Dei Lucrii. The dii lucrii or dei lucrii are a collective of Roman deities mentioned by the Christian apologist Arnobius (d. 330 AD): Indeed, who is there who would believe that there are gods of profit, and that they preside over the pursuit of profits, which come most of the time from base sources and always at the expense of others?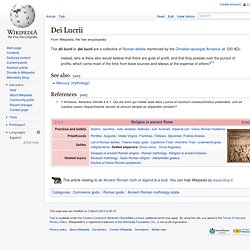 [1] See also[edit] References[edit] Hermes. Hermes is a god of transitions and boundaries.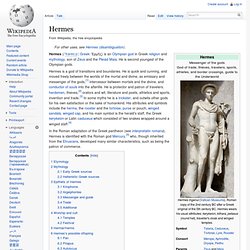 He is quick and cunning, and moved freely between the worlds of the mortal and divine, as emissary and messenger of the gods,[1] intercessor between mortals and the divine, and conductor of souls into the afterlife. He is protector and patron of travelers, herdsmen, thieves,[2] orators and wit, literature and poets, athletics and sports, invention and trade.[3] In some myths he is a trickster, and outwits other gods for his own satisfaction or the sake of humankind.
His attributes and symbols include the herma, the rooster and the tortoise, purse or pouch, winged sandals, winged cap, and his main symbol is the herald's staff, the Greek kerykeion or Latin caduceus which consisted of two snakes wrapped around a winged staff.[4]
---