Common connotations of YELLOW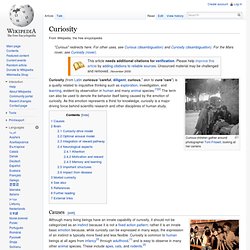 Curious children gather around photographer Toni Frissell , looking at her camera Curiosity (from Latin curiosus " careful , diligent , curious ," akin to cura " care ") is a quality related to inquisitive thinking such as exploration , investigation, and learning , evident by observation in human and many animal species. [ citation needed ] The term can also be used to denote the behavior itself being caused by the emotion of curiosity. As this emotion represents a thirst for knowledge, curiosity is a major driving force behind scientific research and other disciplines of human study. [ edit ] Causes Children peer over shoulders to see what their friends are reading.
Curiosity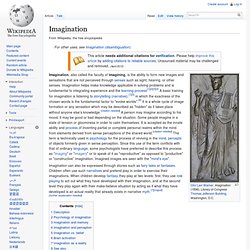 Imagination , also called the faculty of imagining , is the ability to form new images and sensations that are not perceived through sight, hearing, or other senses. Imagination helps make knowledge applicable in solving problems and is fundamental to integrating experience and the learning process [ 1 ] [ 2 ] [ 3 ] [ 1 ] [ 4 ] A basic training for imagination is listening to storytelling ( narrative ), [ 1 ] [ 5 ] in which the exactness of the chosen words is the fundamental factor to "evoke worlds". [ 6 ] It is a whole cycle of image formation or any sensation which may be described as "hidden" as it takes place without anyone else's knowledge. A person may imagine according to his mood, it may be good or bad depending on the situation.
Imagination
For the Radiohead song, see " Optimistic ". "Positive thinking" redirects here. For songs of that title, see Positive Thinking . Berlin Wall Monument (West view) - the west side of the Wall is covered with graffiti that reflects the hope and optimism post-1989
Optimism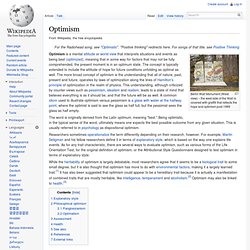 Hope is the state which promotes the belief in an outcome related to events and circumstances in one's life. Despair is often regarded as the opposite of hope. [ 1 ] Hope is the "feeling that what is wanted can be had or that events will turn out for the best" or the act of "look[ing] forward to something with desire and reasonable confidence" or "feel[ing] that something desired may happen". [ 2 ] Other definitions are "to cherish a desire with anticipation"; "to desire with expectation of obtainment"; or "to expect with confidence". [ 3 ] In the English language the word can be used as either a noun or a verb, although hope as a concept has a similar meaning in either use. [ 4 ] [ edit ] Leadership Leadership- Napoleon Bonaparte said, "A leader is a dealer in hope."
Hope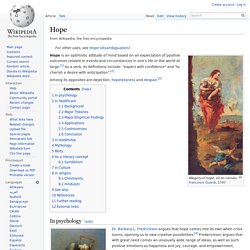 Libertarianism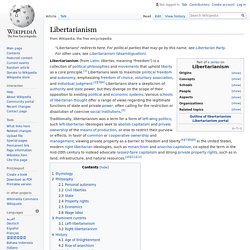 Libertarianism is a set of related political philosophies that uphold liberty as the highest political end. [ 1 ] [ 2 ] This includes emphasis on the primacy of individual liberty , political freedom , and voluntary association . Libertarians advocate a society with a greatly reduced state or no state at all. [ 3 ] The Stanford Encyclopedia of Philosophy defines libertarianism as the moral view that agents initially fully own themselves and have certain moral powers to acquire property rights in external things. [ 4 ] Libertarian philosopher Roderick Long defines libertarianism as "any political position that advocates a radical redistribution of power from the coercive state to voluntary associations of free individuals", whether "voluntary association" takes the form of the free market or of communal co-operatives . [ 5 ] According to the U.S.
Liberalism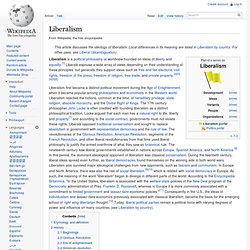 Liberalism (from the Latin liberalis ) [ 1 ] is a political philosophy or worldview founded on ideas of liberty , equality , and justice (including both legal justice and social justice). [ 2 ] Liberals espouse a wide array of views depending on their understanding of these principles, but generally they support ideas such as free and fair elections , civil rights , freedom of the press , freedom of religion , free trade , and private property . [ 3 ] [ 4 ] [ 5 ] [ 6 ] [ 7 ] Liberalism first became a distinct political movement during the Age of Enlightenment , when it became popular among philosophers and economists in the Western world . Liberalism rejected the notions, common at the time, of hereditary privilege , state religion , absolute monarchy , and the Divine Right of Kings .
Lightning is one of the most dramatic effects of electricity. Electricity is the set of physical phenomena associated with the presence and flow of electric charge . Electricity gives a wide variety of well-known effects, such as lightning , static electricity , electromagnetic induction and the flow of electrical current . In addition, electricity permits the creation and reception of electromagnetic radiation such as radio waves . In electricity, charges produce electromagnetic fields which act on other charges.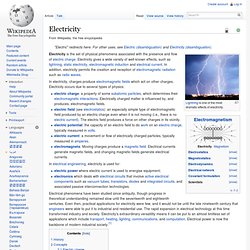 Electricity
Fall [ 1 ] ( pron.: / ˈ ɔː t əm / , / ˈ ɑː t əm / or / f ɔː l / , / f ɑː l / , respectively) is one of the four temperate seasons . Fall marks the transition from summer into winter , in September ( Northern Hemisphere ) or March ( Southern Hemisphere ) when the arrival of night becomes noticeably earlier. The equinoxes might be expected to be in the middle of their respective seasons, but temperature lag (caused by the thermal latency of the ground and sea) means that seasons appear later than dates calculated from a purely astronomical perspective.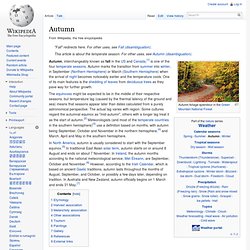 Autumn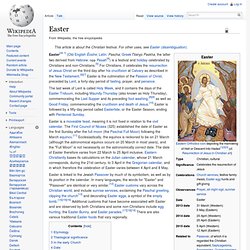 Easter [ nb 1 ] [ nb 2 ] (also called the Pasch [ 1 ] [ 2 ] or Pascha [ nb 3 ] [ 3 ] ) is a Christian festival and holiday celebrating the resurrection of Jesus Christ on the third day after his crucifixion at Calvary as described in the New Testament . [ 4 ] [ 5 ] Easter is the culmination of the Passion of Christ , preceded by Lent , a forty-day period of fasting , prayer, and penance . The last week of Lent is called Holy Week , and it contains the days of the Easter Triduum , including Maundy Thursday (also known as Holy Thursday), commemorating the Last Supper and its preceding foot washing , [ 6 ] [ 7 ] as well as Good Friday , commemorating the crucifixion and death of Jesus . [ 8 ] Easter is followed by a fifty-day period called Eastertide , or the Easter Season, ending with Pentecost Sunday . Easter is a moveable feast , meaning it is not fixed in relation to the civil calendar .
Lemon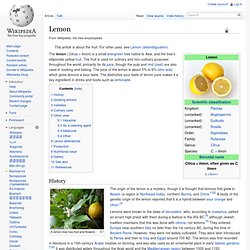 The lemon ( Citrus × limon ) is a small evergreen tree native to Asia, and the tree's ellipsoidal yellow fruit . The fruit is used for culinary and non-culinary purposes throughout the world, primarily for its juice , though the pulp and rind ( zest ) are also used in cooking and baking. The juice of the lemon is about 5% to 6% citric acid , which gives lemons a sour taste. The distinctive sour taste of lemon juice makes it a key ingredient in drinks and foods such as lemonade . [ edit ] History
Summer
Summer ( / ˈ s ʌ m ər / SU -mər ) is the warmest of the four temperate seasons , between spring and autumn . At the summer solstice , the days are longest and the nights are shortest, with day-length decreasing as the season progresses after the solstice. The date of the beginning of summer varies according to climate, culture, and tradition, but when it is summer in the Northern Hemisphere it is winter in the Southern Hemisphere , and vice versa. [ edit ] Timing From an astronomical view, the equinoxes and solstices would be the middle of the respective seasons, [ 1 ] [ 2 ] but a variable seasonal lag means that the meteorological start of the season, which is based on average temperature patterns, occurs several weeks later than the start of the astronomical season. [ 3 ] According to meteorologists, [ 4 ] [ 5 ] summer extends for the whole months of June, July, and August in the northern hemisphere and the whole months of December, January, and February in the southern hemisphere.
" Mardi Gras " ( pron.: / ˈ m ɑr d i ɡ r ɑː / ), " Mardi Gras season ", and " Carnival season ", [ 1 ] [ 2 ] [ 3 ] [ 4 ] [ 5 ] in English, refer to events of the Carnival celebrations, beginning on or after Epiphany and culminating on the day before Ash Wednesday . Mardi gras is French for Fat Tuesday , referring to the practice of the last night of eating richer, fatty foods before the ritual fasting of the Lenten season, which begins on Ash Wednesday . The day is sometimes referred to as Shrove Tuesday , from the word shrive , meaning " confess ." [ 6 ] Related popular practices are associated with celebrations before the fasting and religious obligations associated with the penitential season of Lent .
Mardi Gras
For other meanings see Animal Crossing (disambiguation) . Animal Crossing ( どうぶつの森 , Dōbutsu no Mori ? , lit. "Animal Forest") , is a social simulation video game series developed and published by Nintendo , in which the player lives in a village inhabited by anthropomorphic animals, carrying out various activities. The series is notable for its open-ended gameplay and extensive use of the game systems ' internal clock and calendar to simulate real passage of time .
Animal Crossing
The English word love can refer to a variety of different feelings, states, and attitudes, ranging from pleasure ("I loved that meal") to interpersonal attraction ("I love my partner"). It can refer to an emotion of a strong affection and personal attachment . [ 1 ] It can also be a virtue representing human kindness , compassion , and affection—"the unselfish loyal and benevolent concern for the good of another". [ 2 ] And it may describe compassionate and affectionate actions towards other humans, one's self or animals. [ 3 ]
Cowardice
Cowardice is a trait wherein fear and excess self-concern override doing or saying what is right, good and of help to others or oneself in a time of need—it is the opposite of courage . As a label, "cowardice" indicates a failure of character in the face of a challenge. [ 1 ] "Cowardice is impotence worse than violence. The coward desires revenge but being afraid to die, he looks to others, maybe to the government of the day, to do the work of defense for him. A coward is less than a man.
Traffic light
Caution
Friendship
Warning sign
Happiness
Recreation
Warm
Sunlight