Pubications
BizTucson - The Region's Business Magazine. Blog. Speaking Speed Have you ever been talking with someone and they speak so slllooowwwlllyyy, that you want to shake them?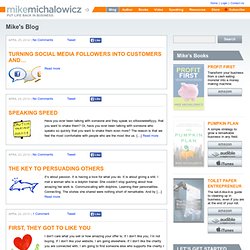 Or, have you ever been talking with someone who speaks so quickly that you want to shake them even more? The reason is that we feel the most comfortable with people who are the most like us. […] Read more The Key To Persuading Others It's about passion. 10,000 Words - Where Journalism and Technology Meet. VentureBeat | Tech. People. Money. Zocalo Tucson Magazine.
The Verge. Adbusters Culturejammer Headquarters | Journal of the mental environment. Monster Children : Splash. Informationliberation - The news you're not supposed to know... The Onion - America's Finest News Source.
Dissident Voice. Home. Scientific American Blog Network. Independent Media Center | www.indymedia.org | ((( i ))) - 19 May 2012 A BUILDING IS NOT ENOUGH: Occupying a Skyscraper for Art Hundreds of people are blocking a street in Milano protesting for the eviction of a skyscraper of 32 floors they were occupying. Torre Galfa, near Stazione Centrale, has been taken the 5 of May by Macao , a group of artists, video makers, journalists, immaterial workers to make a new arts center, to strengthen relationships between art and society and protest against abandoned buildings. Thezombiecrew. Juxtapoz Magazine. Mediabistro.com: jobs, classes, community and news for media professionals. Home. Breaking News, Analysis, Politics, Blogs, News Photos, Video, Tech Reviews - TIME.com.
---