Manga
My favourite mangas in different categories. Aug 28
Mitsuru Adachi (あだち 充 or 安達 充, Adachi Mitsuru?, born February 9, 1951 in Isesaki, Gunma Prefecture, Japan) is a Japanese manga artist. After graduating from Gunma Prefectural Maebashi Commercial High School in 1969, Adachi worked as an assistant for Isami Ishii.[1] He made his manga debut in 1970 with Kieta Bakuon, based on a manga originally created by Satoru Ozawa. Kieta was published in Deluxe Shōnen Sunday (a manga magazine published by Shogakukan) .
Mitsuru Adachi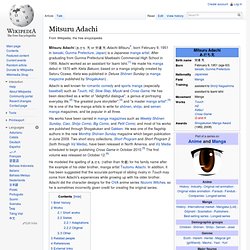 One Piece Manga - Read One Piece Online For Free
Chapter 733: "What Soldier-san Wants" The colosseum D block battle is almost over with nearly 30 fighters remaining with Rebecca among them. At the Hidden Harbor, Usopp learned from the dwarves that Thunder Soldier left the group in order to assassinate Doflamingo at his palace, leaving Usopp in command of the army much to his disbelief. Though they were nearly caught by some soldiers the dwarves easily subdued them and their clothes were given to Usopp and Robin for disguise. Near the Harbor elevator, many soldiers were rushing towards the elevator to see the battle between Franky and Senor Pink, unaware that Thunder Soldier and a few dwarves were hiding inside a crate in the lift.
The One Piece Wiki - The Wiki About the Shonen Jump Manga and Anime Series by Eiichiro Oda