Esoteric
Video. Video. The Real Reason for NATO Attacking Libya EXPOSED. Posted on May, 24 2011 @ 08:34 AM reply to post by Cassius666 Star and Flag OP.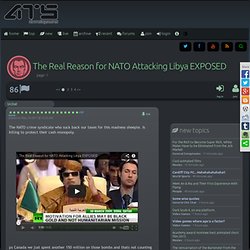 Many financial analysts are claiming that the first international player to switch their currency to one that is commodity-backed will instantly become the next economic powerhouse, as every other nation will want to use this new, stable currency for world trade. The Shock Doctrine. In THE SHOCK DOCTRINE, Naomi Klein explodes the myth that the global free market triumphed democratically.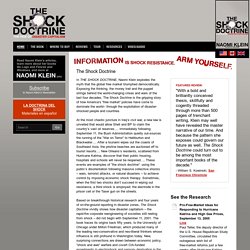 Exposing the thinking, the money trail and the puppet strings behind the world-changing crises and wars of the last four decades, The Shock Doctrine is the gripping story of how America's "free market" policies have come to dominate the world-- through the exploitation of disaster-shocked people and countries. At the most chaotic juncture in Iraq's civil war, a new law is unveiled that would allow Shell and BP to claim the country's vast oil reserves…. Is the capital of kasakhstan also the capital of the new world order? Kazakhstan is a country in central asia, although a small portion is actually in Eastern Europe.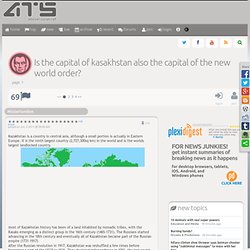 It is the ninth largest country (2,727,300sq km) in the world and is the worlds largest landlocked country. most of Kazakhstan history has been of a land inhabited by nomadic tribes, with the Kasaks emerging as a distinct group in the 16th century (1465-1731). The Russians started advancing in the 18th century and eventually all of Kazakhstan became part of the Russian empire (1731-1917) After the Russian revolution in 1917, Kazakhstan was reshuffled a few times before becoming a part of the USSR in 1936. They declared independence in 1991, the last soviet country to do so.
---