User Experience
iOS Human Interface Guidelines: Introduction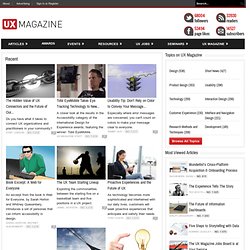 iPad User Experience Guidelines
Apple's Human Interface Guidelines for the iPad outline how to create user interfaces optimized for the iPad device. According to Apple , the best iPad applications: downplay application UI so that the focus is on content; present content in beautiful, often realistic ways; and take full advantage of device capabilities to enable enhanced interaction. The overview of iPad user experience guidelines listed below is © 2010 Apple Inc. More details on these guidelines and further information on developing for the iPad can be found in Apple's Human Interface Guidelines for the iPad .
User experience design for the Web (and its siblings, interaction design, UI design, et al) has traditionally been a deliverables-based practice.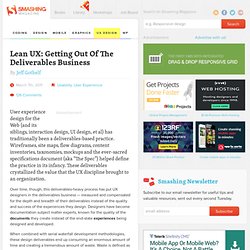 Planning Your UX Strategy
A strategy is a set of coordinated, orchestrated, planned actions, or tactics, which will take you along a journey to reach a desired future state, over an established period of time. Design objectives are conditions or outcomes that a project must meet, often of tactical nature. User experience (UX) strategy shouldn't therefore be confused with design objectives. This article is about how to plan and coordinate actions to organisationally achieve good UX. The idea for this article was sparked by a cacophony of opinions on what constitutes UX strategy voiced recently in the twittersphere.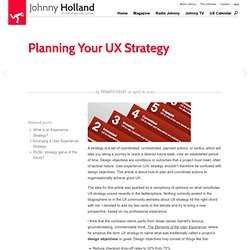 Understand what is UX design