Religious Studies
Bible Verse Finder (bibref)
Religious Studies
Exclusions, Dualities, and Contributions by Grove Harris I am a Witch; a Wiccan priestess if you prefer; a Pagan to use a larger religious categorization, with an M.Div. from Harvard. I walk in many social and spiritual realms. I am a feminist. As a young woman, I recognized in the writings of the activist Witch Starhawk my own reverence for nature and felt a homecoming to this tradition that honors my body and self as part of nature.
Pagan Involvement in the Interfaith Movement: Exclusions, Dualities and Contributions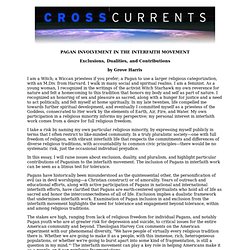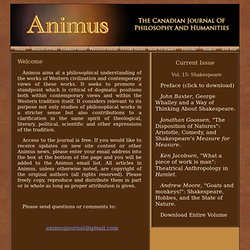 Animus: The Canadian Journal Of Philosophy And Humanities
Animus aims at a philosophical understanding of the works of Western civilization and contemporary views of these works. It seeks to promote a standpoint which is critical of dogmatic positions both within contemporary views and within the Western tradition itself. It considers relevant to its purpose not only studies of philosophical works in a stricter sense but also contributions to a clarification in the same spirit of theological, literary, political, scientific and other expressions of the tradition. Access to the journal is free.
Over the past five decades, immigration has dramatically changed the religious landscape of the United States. Today, the encounter of people of different religious traditions takes place in our own cities and neighborhoods. In 1991, the Pluralism Project at Harvard University began a pioneering study of America's changing religious landscape. Through an expanding network of affiliates, we document the contours of our multi-religious society, explore new forms of interfaith engagement, study the impact of religious diversity in civic life, and contextualize these findings within a global framework.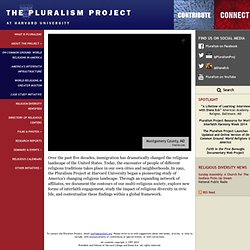 Journals
Welcome and Introduction[The general philosophy behind these pages] Announcements! Announcements now are posted on My blog. Most recent announcements appear in the widget at the top of the right column on this page.
Nielsen's Psychology of Religion Pages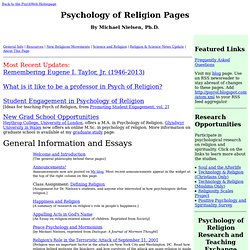 By Gerald Virtbauer, University of Vienna ©2008, Gerald Virtbauer Buddhism has become one of the main dialog partners for psychology since the second part of the last century. The reception of Buddhist psychological thought in the United States began primarily after the World Parliament of Religions in Chicago, 1893, where writer and publisher Paul Carus was especially attracted by presentations of Zen Patriarch Shaku Soen. His main student, Suzuki Daisetsu Teitaro (usually known in the West as D. T.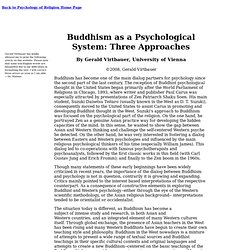 Buddhism as a Psychological System, by G. Virtbauer
Journal of Religion and Society
Electronic articles in the journal are cited (for example, in a footnote) as follows: Jane Smith, "Something New About Religion and Society," Journal of Religion & Society 1 (1999), 3-5 [URL of the article]. Articles or volumes in the Supplement Series are cited as follows: John Doe, "A New Idea," An Interesting Topic in Religion and Society, Journal of Religion & Society Supplement Series 1, edited by Jane Smith (The Kripke Center: 2004; URL of the volume or the article). The Journal of Religion & Society is indexed in Religious and Theological Abstracts and by the American Theological Library Association (http://www.atla.com) in the ATLA RELIGION DATABASE ®, Religion Index One: Perodicals (RIO®), and Index to Book Reviews in Religion (IBRR®).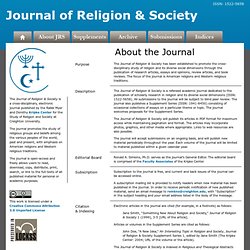 Pecora - Religion and Modernity in Current Debate - JCRT 4.2
Passage To India - Title Page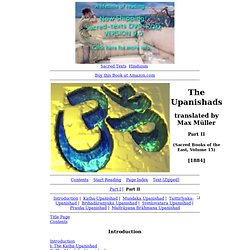 Sacred Texts Hinduism Buy this Book at Amazon.com Contents Start Reading Page Index Text [Zipped] Part I | Part II Introduction | Katha-Upanishad | Mundaka Upanishad | Taittirîyaka-Upanishad | Brihadâranyaka Upanishad | Svetâsvatara Upanishad | Prasña Upanishad | Maitrâyana Brâhmana Upanishad
The Upanishads, Part 2 (SBE15) Index
The Journal of Asian Studies, Vol. 37, No. 1 (Nov., 1977), pp. 183-185