Business Card
Business Cards - Full Color Printing - Digital Printing Company | Vistaprint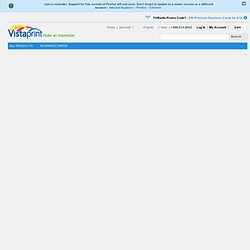 At Vistaprint we're dedicated to providing 100% customer satisfaction. If the products you ordered fail to meet your expectations, simply contact us and we'll do everything possible to see that you're happy with your Vistaprint experience. We offer a low price guarantee on: If you should find one of the products backed by our Lowest Price Guarantee in the same quantity at a lower price, we'll refund the difference. It's as simple as that.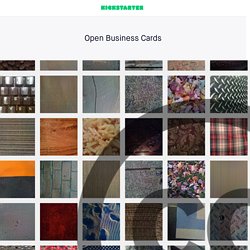 Open Business Cards by Keith Hopper
The project goal is to create 100 Creative Commons licensed background images for anyone to use for free. To kick things off, I'll create 100 mini business cards using the photos.Why 100 images? MOO MiniCards let you put custom photos on the back of high quality mini business cards. Since MiniCards come in packs of 100 and you can upload up to 100 of your own images, I thought it would be fun to create a pack with every single card you hand out being unique and open. Photo by visualdensityWhy $100? If you want one of the first packs of CC-licensed MOO MiniCards, the money will go to pay for the cards and the shipping for your order.
Blomus Business Card Holder
Ultimate Business Cards - 3D Business Cards, Animation Business Cards, 30 Mil Business Cards, Specialty Business Cards, Transparent Business Cards
At Ultimate Business Cards we create business cards that are state of the art, using the specialty materials ensuring that you leave a lasting and memorable impression. Please browse our website to learn more about what we can do for you. We also invite you to visit the World's only Super Business Card Store. "We believe a business card conveys more than the information provided. It tells the world what you think of yourself."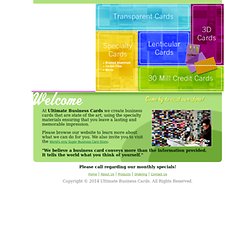 Premium and Unique Business Card Templates
MOO helps you easily create professional Business Cards using your photos. Upload your latest photos to create a truly unique Business Cards to promote your truly unique business. Choose up to 50 different photos or designs to display on your cards using MOO's Printfinity technology. Upload your own logo and details with our range of templates or work with your own complete PDF design. MOO Business Cards come in both a premium silky smooth, matt-laminated 'MOO Classic' paper or an eco-friendly 'MOO Green' stock.
CARDOBSERVER