ADO.NET
Using Calculated DataColumns in ADO.NET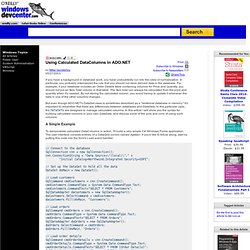 by Mike Gunderloy 05/27/2003 If you have a background in database work, you have undoubtedly run into the rules of normalization. In particular, you probably internalized the rule that you should not store derived data in the database.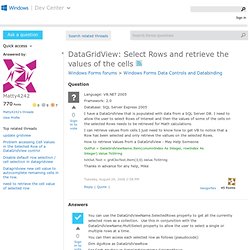 DataGridView: Select Rows and retrieve the values of the cells
Language: VB.NET 2005 Framework: 2.0 Database: SQL Server Express 2005 I have a DataGridView that is populated with data from a SQL Server DB.
HOW TO: Populate a TreeView Control from a Dataset in Visual Basic .NET
This step-by-step article describes how to display data from a hierarchical dataset by using the TreeView control in Microsoft Visual Basic .NET.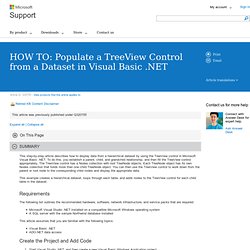 Optimizing MERGE Statement Performance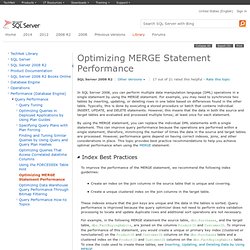 The MERGE statement can be used to efficiently bulk load data from a source data file into a target table by specifying the OPENROWSET(BULK…) clause as the table source. By doing so, the entire file is processed in a single batch. To improve the performance of the bulk merge process, we recommend the following guidelines:
How do I... Reseed a SQL Server identity column? | Servers and Storage | TechRepublic.com
SQL script for creating date dimension table for a data warehouse at SQLBook.com
Almost all data warehouses enable the user to analyse and summarize data in sectors of time. Reports are often based on the financial year, the last quarter, last month or last week etc.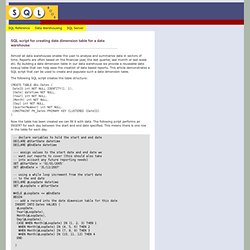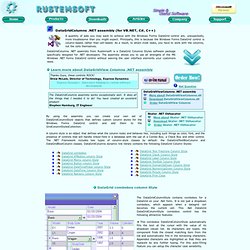 datagrid columns vb.net c# Visual Basic style combobox DataGrid Columns .NET assembly for VB, C#, C++,ilasm,ildasm,decompile,obfuscate,reflector
Parameters DataSource - a source for DataGrid values list as System.Data.DataTable DisplayMember - field to display in combo as Integer (index of column) or as String (name of table column)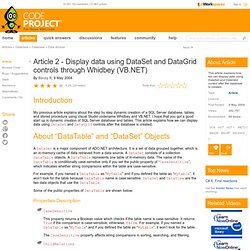 Article 2 - Display data using DataSet and DataGrid controls through Whidbey (VB.NET)
Introduction My previous article explains about the step by step dynamic creation of a SQL Server database, tables, and stored procedure using Visual Studio codename Whidbey and VB.NET. I hope that you got a good start up in dynamic creation of SQL Server database and tables. This article explains how we can display data using DataSet and DataGrid controls after the database is created.