Cabinet de curiosité
Interviews célèbres. Flush Tracker - World Toilet Day. De l'oeuf à la grenouille. Google Gravity. Bizarre Google Streetview findings « Coolphoto « WhereCoolThingsHappen. Perfect Angle Camera Shots. Classic Photos of Celebrities | Vivi The Mage. Some classic photo's I got compiled up!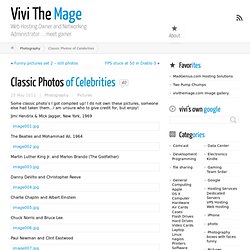 I do not own these pictures, someone else had taken them…i am unsure who to give credit for, but enjoy! Jimi Hendrix & Mick Jagger, New York, 1969 The Beatles and Mohammad Ali, 1964 Martin Luther King Jr. and Marlon Brando (The Godfather) 1268: Theodore Roosevelt was once shot at during a campaign rally in Wisconsin. The bullet penetrated his glasses case and a manuscript, just missing his right lung. Being an expert hunter he decided to stay and give his speech since he wasn't coughing up.
Universal Decison Maker. The magic button — Make Everything OK. TEDxParis 2012.
---