Startups
Business Developer job at Wisembly in Paris, France. Société Wisembly est une startup parisienne qui développe une solution collaborative pour les réunions.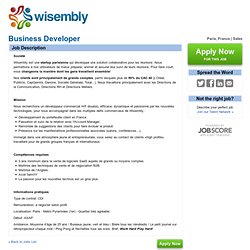 Nous permettons à nos utilisateurs de meiux préparer, animer et assurer leur suivi de leurs réunions. Pour faire court, nous changeons la manière dont les gens travaillent ensemble! Nos clients sont principalement de grands comptes, parmi lesquels plus de 80% du CAC 40 (L'Oréal, Publicis, CapGemini, Danone, Société Générale, Total...). Balloon Symfony2 Lead Developer H/F. Cabarey Communication - Créateurs d'interactivité augmentée.
Make a homepage in minutes : Flavors.me. UserVoice - The easiest way to understand your customers.
MNT
Logiciel de gestion de contrats | Contract.FM, le Contract Management online. Terreau fertile pour graines de projets web.
---