Foursquare
Am I the only one who's gotten past the honeymoon period with Foursquare and is wondering what the point is anymore? Lately I've found myself either not checking in at all or feeling kind of like a chump when I do bother to check in. There seems to be so much hype about Foursquare and geolocation apps in general, but I can't shake the feeling that most of the hype is coming from people who in some way stand to make a profit off Foursquare rather than users. So far my experience with Foursquare has been very lukewarm: first I had to manually input most of the places I checked in at since I live in the burbs where nobody else was using it.
Foursquare Fatigue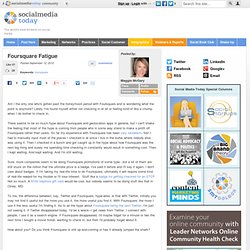 A massive array of shimmering advertisements for Foursquare has been erected in New York City's Times Square. This picture just appeared on Flickr; it's pretty impressive. The ad towers over American Eagle's Times Square retail store.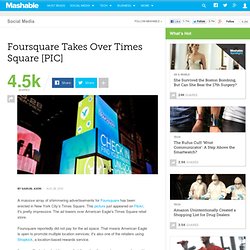 Foursquare Takes Over Times Square [PIC]
Just when I was about to give up hope of ever becoming mayor of Mashable HQ on Foursquare, the location-sharing social network has launched a new feature that might help alleviate my checkin fatigue: "am I mayor yet?" According to the new feature, which launched this afternoon, I'm just four days away from becoming mayor of our New York City office. I know that because the service now tells you within the mobile app after each checkin (and with Mashable's Brett Petersel on vacation, my dream might just come true). In a blog post, Foursquare reminds us how mayorships work, writing that "you need to have checked in more days than anyone else over the last two months (60 days), so only one check-in per day counts."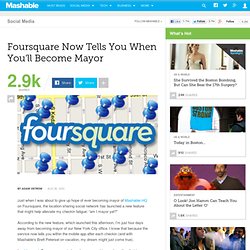 Foursquare Now Tells You When You'll Become Mayor
Foursquare Badges: The Ultimate Guide (PICTURES)
Measure Your Foursquare Mojo | FourSquare Grader
Congrats on your first check-in! In foursquare, you earn badges for your best check-ins – like going to museums, staying out late, or working out at the gym ten times in a month. Have fun exploring!
Foursquare : présentation et utilisation business
Foursquare : la nouvelle carte de fidélité ? | Blog de nuit : cr
L'une des forces de Foursquare, c'est son potentiel de fidélisation. À l'heure actuelle, beaucoup font l'apologie de la recommandation entre les utilisateurs, et du côté ludique. Moi le premier.
owni : Foursquare, ou comment subvertir les réseaux sociaux | Fa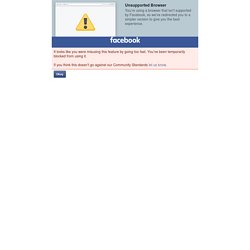 Photo CC Flickr britchick84 En réaction à la manie de la géolocalisation sur fond de marketing qui s'empare des utilisateurs de Foursquare, Francis Mizio a lancé son projet #4sqf, pour revendiquer le droit à la fiction. Depuis quelques jours, j'essaie de devenir le nouveau maire du XVIIIe arrondissement, à Paris. Pas facile, la place est prise. Non, pas par Daniel Vaillant, prédécesseur de Nicolas Sarkozy au ministère de l'Intérieur et actuel détenteur de l'écharpe montmartroise dans la vraie vie.
Foursquare : nouveaux outils professionnels à venir est une traduction d'un article tiré du NY Times : Foursquare Introduces New Tools for Businesses. Réseau social basé sur la géolocalisation, Foursquare travaille sur un outil web analytics à usage professionnel. Ce tableau de bord devrait fournir des statistiques sur les visiteurs aux propriétaires d'établissement. Tristan Walker, directeur commercial chez Foursquare, a déclaré que ces dernières fonctions business étaient destinées à aider les commerçants locaux dans la gestion de leur établissement grâce à ce feedback client. Nous essayons de donner aux entreprises un outil pour fidéliser leurs clients actuels et la possibilité de conquérir de nouveaux clients, a déclaré M.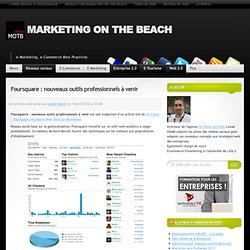 Foursquare : nouveaux outils professionnels à venir | E-Réputati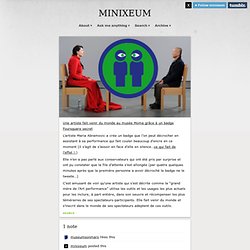 minixeum, Une artiste fait venir du monde au musée Moma...
Une artiste fait venir du monde au musée Moma grâce à un badge Foursquare secret L'artiste Maria Abramovic a crée un badge que l'on peut décrocher en assistant à sa performance qui fait couler beaucoup d'encre en ce moment (il s'agit de s'assoir en face d'elle en silence…ce qui fait de l'effet ! ) Elle n'en a pas parlé aux conservateurs qui ont été pris par surprise et ont pu constater que la file d'attente s'est allongée (par quatre quelques minutes après que la première personne a avoir décroché le badge ne le tweete…)
Location-based social network Foursquare counted its 40 millionth checkin a "couple days ago," according to a tweet from one of its developers. The number shows that Foursquare's growth rate is accelerating: Five weeks ago, the company announced that the total number of checkins had reached 22 million. In short: Foursquare appears to have doubled its checkin rate in just over a month. It's just over two weeks, meanwhile, since Foursquare hit the million user mark. What's more, recent acquisition rumors have driven Foursquare hype to new levels.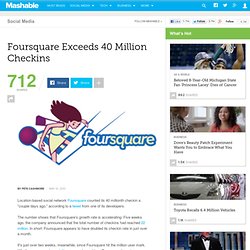 Foursquare Exceeds 40 Million Checkins