Foursquare
Am I the only one who's gotten past the honeymoon period with Foursquare and is wondering what the point is anymore? Lately I've found myself either not checking in at all or feeling kind of like a chump when I do bother to check in. There seems to be so much hype about Foursquare and geolocation apps in general, but I can't shake the feeling that most of the hype is coming from people who in some way stand to make a profit off Foursquare rather than users. So far my experience with Foursquare has been very lukewarm: first I had to manually input most of the places I checked in at since I live in the burbs where nobody else was using it.
Foursquare Fatigue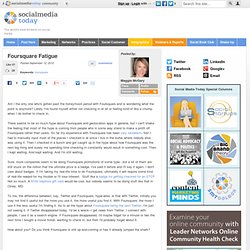 A massive array of shimmering advertisements for Foursquare has been erected in New York City's Times Square. This picture just appeared on Flickr; it's pretty impressive. The ad towers over American Eagle's Times Square retail store.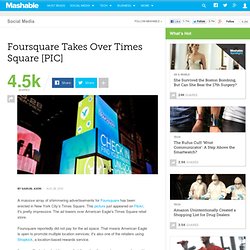 Foursquare Takes Over Times Square [PIC]
Just when I was about to give up hope of ever becoming mayor of Mashable HQ on Foursquare, the location-sharing social network has launched a new feature that might help alleviate my checkin fatigue: "am I mayor yet?"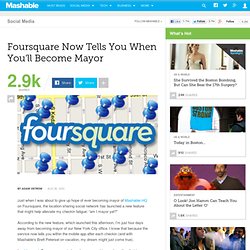 Foursquare Now Tells You When You'll Become Mayor
Foursquare Badges: The Ultimate Guide (PICTURES)
Measure Your Foursquare Mojo | FourSquare Grader
Congrats on your first check-in! In foursquare, you earn badges for your best check-ins – like going to museums, staying out late, or working out at the gym ten times in a month. Have fun exploring!
Foursquare : présentation et utilisation business
Foursquare : la nouvelle carte de fidélité ? | Blog de nuit : cr
L'une des forces de Foursquare, c'est son potentiel de fidélisation. À l'heure actuelle, beaucoup font l'apologie de la recommandation entre les utilisateurs, et du côté ludique. Moi le premier.
owni : Foursquare, ou comment subvertir les réseaux sociaux | Fa
Foursquare : nouveaux outils professionnels à venir est une traduction d'un article tiré du NY Times : Foursquare Introduces New Tools for Businesses.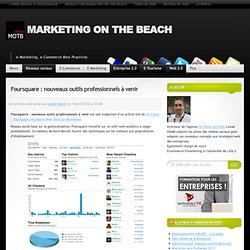 Foursquare : nouveaux outils professionnels à venir | E-Réputati
minixeum, Une artiste fait venir du monde au musée Moma...
Foursquare Exceeds 40 Million Checkins