Newspaper Articles
Lieberman to Ashton: Hamas-Fatah reconciliation gives Hamas opening for West Bank takeover. Is Israel Expected to Negotiate with a Hamas-Fatah Government? It's a simple question, and yet Obama administration officials are continuing to dance around the answer.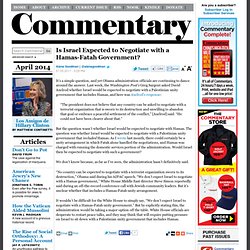 Last week, the Washington Post's Greg Sargent asked David Axelrod whether Israel would be expected to negotiate with a Palestinian unity government that includes Hamas, and here was Axelrod's response: "The president does not believe that any country can be asked to negotiate with a terrorist organization that is sworn to its destruction and unwilling to abandon that goal or embrace a peaceful settlement of the conflict," [Axelrod] said. Fatah and Hamas Sign Palestinian Reconciliation Pact. How Hamas-Fatah unity could break Middle East deadlock | Daniel Levy. For the better part of 20 years, the policies of Fatah (the leading faction within the Palestine Liberation Organisation) have been predictable to the point of tedium.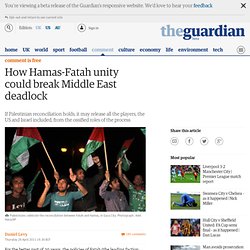 This week in Cairo, in agreeing to a unity and power-sharing deal with Hamas, Fatah surprised. Yes, Palestinian national reconciliation has been tried before, fleetingly and unenthusiastically, following a Saudi-brokered arrangement in spring 2007, and it may again unravel. But this time, Fatah's move appears to be a more calculated and profound break with past practice – and the anticipated opprobrium of the US seems to weigh less heavily. The Fatah-Hamas Reconciliation Agreement. Fatah and Hamas sign reconciliation deal - Middle East. Fatah, the Palestinian political organisation, has reached an agreement with its rival Hamas on forming an interim government and fixing a date for a general election, Egyptian intelligence has said.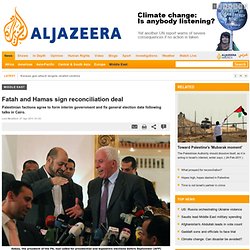 In February, Mahmoud Abbas, the president of the Palestinian Authority and a member of Fatah, called for presidential and legislative elections before September, in a move which was rejected by Hamas at the time. "The consultations resulted in full understandings over all points of discussions, including setting up an interim agreement with specific tasks and to set a date for election," Egyptian intelligence said in a statement on Wednesday. The deal, which took many officials by surprise, was thrashed out in Egypt and followed a series of secret meetings. "The two sides signed initial letters on an agreement. Abkommen: Hamas und Fatah besiegeln ihre Versöhnung - SPIEGEL ONLINE - Nachrichten - Politik. Kairo - Nach vier Jahren haben die palästinensischen Gruppen Fatah und Hamas ein Versöhnungsabkommen unterzeichnet.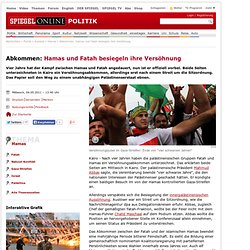 Das erklärten beide Seiten am Mittwoch in Kairo. Der palästinensische Präsident Mahmud Abbas sagte, die Vereinbarung beende "vier schwarze Jahre", die den nationalen Interessen der Palästinenser geschadet hätten. Er kündigte einen baldigen Besuch im von der Hamas kontrollierten Gaza-Streifen an. Nahost: Fatah und Hamas auf Versöhnungskurs | Politik. Die beiden verfeindeten Palästinenserorganisationen haben überraschend ein Versöhnungsabkommen unterzeichnet.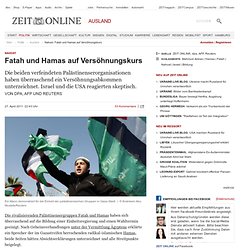 Israel und die USA reagierten skeptisch. Speichern Drucken Twitter Facebook. Versöhnung zwischen Hamas und Fatah - Vereint in Zwietracht - Politik. Anzeige Die Hamas und die Fatah haben ein Versöhnungsabkommen unterzeichnet, um den palästinensischen Bruderkampf beenden.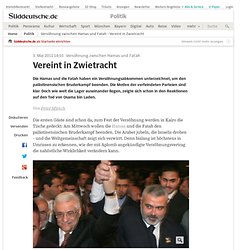 Die Motive der verfeindeten Parteien sind klar. Rival Fatah, Hamas movements reach unity deal. Fatah, Hamas rivals reach deal NEW: A Palestinian protest last month sought Fatah-Hamas unityAn expert says the announcement marks "a very big deal"But the two factions may be acting out of fear that the Arab world's uprisings could hit them, tooIsrael says Fatah must pick peace with Hamas or with Israel (CNN) -- The politically divided Palestinian territories took a major step toward reconciliation Wednesday when the rival movements of Hamas and Fatah announced a deal to form a unity government, officials from both groups said.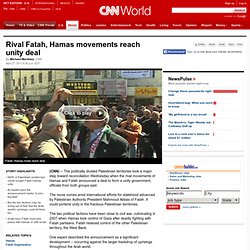 Hamas and Israel: Captives of war and peace. Much contemporary thinking on the recent Israel-Hamas prisoner swap is riddled with mistaken attempts to discern who the winners and losers are.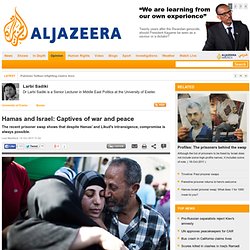 The prisoner swap is a test. It tests not just endurance in the pursuit of immutable goals. More importantly, the swap also tests whether Hamas and Israel could directly negotiate for peace. But first, a word must be said about peace in the age of Arab revolution. It remains to be seen how revolution in low politics leads to a revolution in high politics. Fatah-Hamas Reconciliation Agreement: Possibilities and Challenges. After four years of discussions, the Fatah and Hamas movements agreed to reconciliation last week.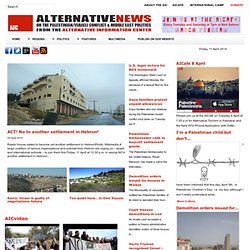 What are the meanings of this agreement, together with the possibilities and challenges it may face on the local, regional and international levels? Hamas_haniyeh After four years of discussions, the Fatah and Hamas movements agreed to reconciliation last week.With facilitation of the Egyptian caretaker government, the two parties agreed to the formation of a temporary technocratic government, elections within a year and joint responsibility for Palestinian security forces, amongst other things. It was further promised that Palestinian political prisoners held by the Palestinian Authority in the West Bank and in the Gaza Strip would be released. Palestinian factions agree on unity - Middle East. Palestinian factions have agreed to establish five committees to address key issues for unity.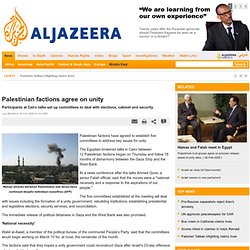 The Egyptian-brokered talks in Cairo between 12 Palestinian factions began on Thursday and follow 18 months of disharmony between the Gaza Strip and the West Bank. At a news conference after the talks Ahmed Qurei, a senior Fatah official, said that the moves were a "national necessity and a response to the aspirations of our people. "