Hobbies
Anything that goes beyond official information, research or stuff I have to bother with...
Hygeny
Phone. Sports&Workout. Biking. Boarding. Music. Art. Books. Creativity | Poetry | Lyrics | Written. PC. E-Magazines. Blogs. Podcasts.
Satire/ Kabarett. Medien für junge Menschen und nostalgische Entwachsene. Football/Soccer. Series. Animes. Critics | Critique | Kritiken. Gedankenspiele. Weitenwender, Global Runner, Mondorondo. Lebens(t)räume. Other. Entertainement Short-Term.
Lets talk about. Personal. Safe | Save | Say fé. The 100 Greatest Movie Compliments Of All Time | HuffPost Mashup. BACK TO THE FUTURE 2 (2011) : Irina Werning - Photographer. Now its time for KOREA, TAIWAN AND TOKYO.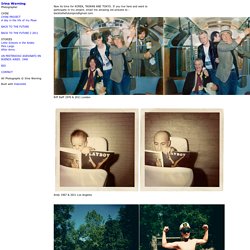 If you live here and want to participate in my project, email me amazing old pictures to : backtothefuturepics@gmail.com Riff Raff 1976 & 2011 London Andy 1967 & 2011 Los Angeles. Ohrensausen - Das Audiomagazin von wissen.de. Spieletest.at | Wir testen Spiele | Brettspiele, Kartenspiele, Computerspiele und Konsolenspiele im Test. FahrradJäger werden - FahrradJäger.
---