GOs, NGOs & linked sites
GLOBAL 2000 - Die Österreichische Umweltschutzorganisation. Oxfam Deutschland | Für eine gerechte Welt. Ohne Armut. Welcome to the NGO Global Network. Home. Pressespiegel IFD. Startseite | volunity.net. Undjetzt-konferenz.de. Grenzenlos e.V. | Vereinigung internationaler Freiwilliger. Rosa-Luxemburg-Stiftung - Aktuell. Institute for cultural diplomacy - cultural bridges in germany | The Human Rights Situation in Germany A Lecture by Cem Özdemir (Chairman, German Green Party) Keynote Speech von Michael Chertoff » Der ehemalige Heimatschutzminister der USA wird während des nächsten einwöchigen CBG Seminars am 8.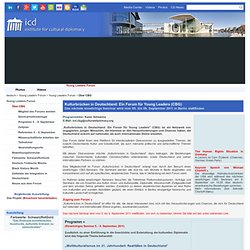 September um 14.00 über deutsch-amerikanische Beziehungen sprechen. FAQ. Wie kann ich Ihre Zeitschrift UNESCO heute beziehen?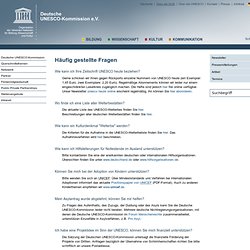 Gerne schicken wir Ihnen gegen Rückporto einzelne Nummern von UNESCO heute (ein Exemplar: 1,45 Euro, zwei Exemplare: 2,20 Euro). Regelmäßige Abonnements können wir leider nur einem eingeschränkten Leserkreis zugänglich machen. Die Hefte sind jedoch hier frei online verfügbar. Unser Newsletter unesco heute online erscheint regelmäßig, ihn können Sie hier abonnieren. Attac Deutschland - Startseite  - Attac Deutschland - www.attac. Portal - Aktuelle Aktionen und Meldungen aus den Kampagnen. Aavaz - The World in Action. Home | World Vote Now.