Afghanistan
Nachrichten - CIA - The World Factbook. Nachrichten - The Kite Runner (film) The Kite Runner is a 2007 American drama film directed by Marc Forster based on the novel of the same name by Khaled Hosseini.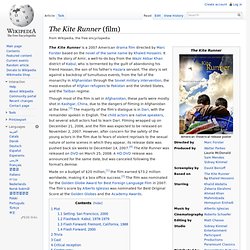 It tells the story of Amir, a well-to-do boy from the Wazir Akbar Khan district of Kabul, who is tormented by the guilt of abandoning his friend Hassan, the son of his father's Hazara servant. The story is set against a backdrop of tumultuous events, from the fall of the monarchy in Afghanistan through the Soviet military intervention, the mass exodus of Afghan refugees to Pakistan and the United States, and the Taliban regime. Made on a budget of $20 million,[1] the film earned $73.2 million worldwide, making it a box office success.[2] The film was nominated for the Golden Globe Award for Best Foreign Language Film in 2007.
The film's score by Alberto Iglesias was nominated for Best Original Score at the Golden Globes and the Academy Awards. Nachrichten - TOLOnews.com. Chronology - The Afghanistan War | Obama's War | FRONTLINE. Oct. 7, 2001 War in Afghanistan begins The CIA and U.S. military draw up plans for an "unconventional war" in which CIA officers would link up with anti-Taliban guerrillas inside Afghanistan.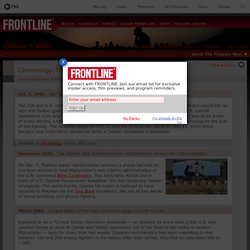 They would later be joined by small U.S. Special Operations units who would call in precision airstrikes on the Taliban and Al Qaeda. It was to be a war of many bombs, a handful of U.S. troops on the ground, and America's Afghan allies taking on the bulk of the fighting. The airstrikes begin on Oct. 7, and the ground war starts on Oct. 19, when Army Rangers and Delta Force operatives strike a Taliban compound in Kandahar. A TIMELINE OF THE IRAQ WAR. MARCH 19, 2003: Bush launches invasion of Iraq MARCH 30, 2003: Donald Rumsfeld: We know where the WMD are We know where [the weapons of mass destruction] are.
They're in the area around Tikrit and Baghdad and east, west, south and north somewhat. [ABC This Week, 3/30/03 ] Afghanistan – touch down in flight.
---