Build Apps
The page you are looking for might have been removed, had its name changed, or is temporarily unavailable. Please try the following: Make sure that the Web site address displayed in the address bar of your browser is spelled and formatted correctly If you reached this page by clicking a link, contact us to alert us that the link is incorrectly formatted Forget that this ever happened, and go browse the files :) Start Browsing Popular Files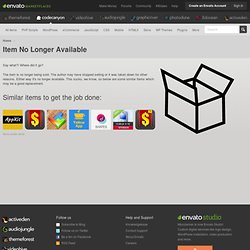 Mobile - Create Your Own iPad App (Without Code)
Start Developing iPad Apps - Apple Developer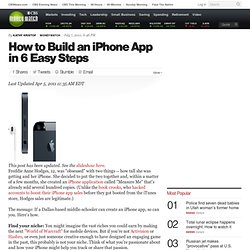 How to Build an iPhone App in 6 Easy Steps - CBS MoneyWatch.com
This post has been updated. See the slideshow here . Freddie Anne Hodges, 12, was "obsessed" with two things -- how tall she was getting and her iPhone. She decided to put the two together and, within a matter of a few months, she created an iPhone application called "Measure Me" that's already sold several hundred copies. (Unlike the book crooks , who hacked accounts to boost their iPhone app sales before they got booted from the iTunes store, Hodges sales are legitimate.) The message: If a Dallas-based middle-schooler can create an iPhone app, so can you.
But if you're really eager to make a mobile app based on your website, business, organization, or just a fun quiz game, a website called Buzztouch may well be the web-based solution for you. Buzztouch is essentially Content Management Software for iOS and Android. It provides a template-based process in which you import your app's information into the online software, and in turn it will create the code that you need to compile the data for your application.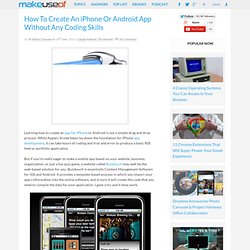 Update: 01/10/2012 : The original version of this article by Jen Gordon was published in August 2009. It was thoroughly revised and updated by the author in September 2012. — Editorial Team Since the iTunes App Store launched in 2008, over 500,000 apps have been approved by Apple, and thousands more app ideas are scrawled on napkins across the world every day.