Photography
Pioneer Woman Actions for Photoshop Elements. Note from PW: At long last, here are the Elements-friendly Pioneer Woman actions, provided to us by two wonderful women who took it upon themselves to convert them one by one.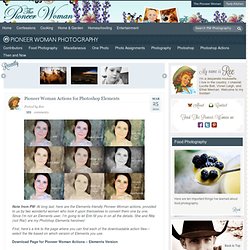 Since I'm not an Elements user, I'm going to let Erin fill you in on all the details. She and Rita (not Ria!) Are my Photohop Elements heroines! Install Actions in Photoshop Elements - The Pioneer Woman. S Ultimate Hipstamatic Guide. We've been addicted to Hipstamatic lately, this iPhone app that lets you take retro-look photos with your future phone.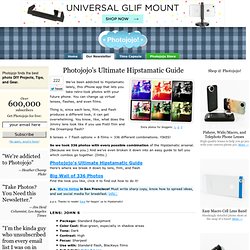 You can change up virtual lenses, flashes, and even films. Thing is, since each lens, film, and flash produces a different look, it can get overwhelming. You know, like, what does the Jimmy lens look like if you use Pistil film and the Dreampop flash? How to fix white blown-out skies quickly in Photoshop. Okay, so here's the lighting situation.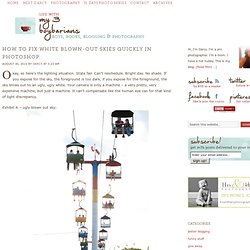 State fair. Can't reschedule. 12 Beginner Tutorials for Getting Started With Photoshop. This series is supported by Ben & Jerry's Joe, Ben & Jerry's new line-up of Fair Trade and frozen iced coffee drinks.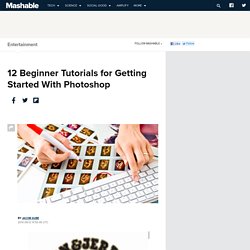 Learn more about it here. Adobe Photoshop, the ubiquitous and industry standard graphics software for photographers, designers, digital artists, as well as casual enthusiasts, can be a baffling application to understand the first time you fire it up. Luckily, littered across the vast space of the web are tutorials in all shapes and sizes that will help you get up and running in no time.
In this post, I've pieced together 12 excellent Photoshop tutorials geared toward beginners. If you're a complete novice or a casual user of this software, you've stopped by the right place.
---