New Biz Pg Layout
Essential Guide To Facebook Page Changes [SCREENSHOTS] Facebook unveiled major upgrades to fan Pages on February 10.
If you have not yet upgraded your Page(s), you can do so here. I recommended choosing the Preview option first to get a feel for what's changed. However, on March 10, the upgrade will be automatic, so you may as well switch before then to get used to it. 8 New Facebook Page Changes: What You Need to Know. Are you wondering what to do about the new Facebook page changes?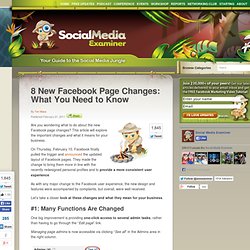 This article will explore the important changes and what it means for your business. On Thursday, February 10, Facebook finally pulled the trigger and announced the updated layout of Facebook pages. They made the change to bring them more in line with the recently redesigned personal profiles and to provide a more consistent user experience. As with any major change to the Facebook user experience, the new design and features were accompanied by complaints, but overall, were well received. Let's take a closer look at these changes and what they mean for your business. Changes to Facebook Pages – A Quick Guide. Yes, LinkedIn is a very different social network with very different users and a very different purpose than the likes of Facebook, Twitter and Pinterest.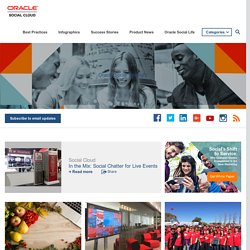 But, that doesn't mean it's not a platform that's always experimenting, evolving and changing like the others. In the past few months alone, LinkedIn has made alterations that you, especially if you're B2B, must be aware of in case they affect current strategy or serve as inspiration for new LinkedIn tactics for your brand. Congratulations! Facebook Updates Fan Pages (Finally Does Something Right) On Thursday February 10, Facebook made some much anticipated changes to their Fan Pages.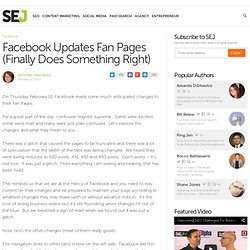 For a good part of the day, confusion reigned supreme. Some were excited, some were mad and many were just plain confused. Let's explore the changes and what they mean to you. There was a glitch that caused the pages to be truncated and there was a lot of speculation that the width of the tabs was being changed. We heard they were being reduced to 500 pixels, 491, 492 and 493 pixels. Facebook Page redesign: 10 things admins should do RIGHT NOW. Facebook announced a massive overhaul of its Pages for business today, and here's the most surprising part: It's awesome.
Don't listen to the angry mobs complaining about change. Today's shift is overwhelmingly positive and creates much-needed options for Page admins. That said, you've got some work to do if you want to make the most if it. We've compiled 10 simple steps that will get you started on the right foot: 1.
---