FB Insights
Is Pagelever Better Than Facebook's Own Insights? By Lisa Peyton on Aug 08, 2011 They've got a great selling point: Facebook insights doesn't do the job for gaining actionable data.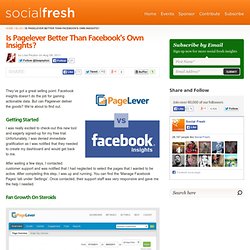 But can Pagelever deliver the goods? We're about to find out. Getting Started I was really excited to check-out this new tool and eagerly signed-up for my free trial. Fan Page Analytics Tools - Get Better Facebook Insights | PageLever. Looking for PageLever?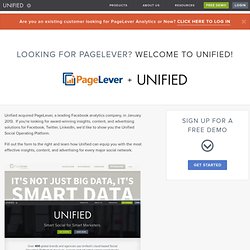 Welcome to Unified! Unified acquired PageLever, a leading Facebook analytics company, in January 2013. If you're looking for award-winning insights, content, and advertising solutions for Facebook, Twitter, LinkedIn, we'd like to show you the Unified Social Operating Platform. New Facebook Analytics Tool Digs Deeper Than Insights. A webpage owner has seemingly unlimited choice in products that slice and dice information about those who visit his or her page.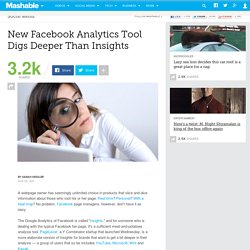 Real time? Personal? How to Measure Your Facebook Engagement. Are you wondering if your Facebook content is connecting with people?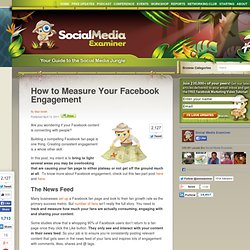 Building a compelling Facebook fan page is one thing. Creating consistent engagement is a whole other skill. Facebook Adds Websites, Social Plugins, and Demographic Analytics to Insights. Facebook today announced a major improvement to its analytics tool Insights.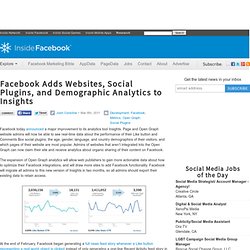 Page and Open Graph website admins will now be able to see real-time data about the performance of their Like button and Comments Box social plugins; the age, gender, language, and country demographics of their visitors, and which pages of their website are most popular. Admins of websites that aren't integrated into the Open Graph can now claim their site and receive analytics about organic sharing of their content on Facebook. The expansion of Open Graph analytics will allow web publishers to gain more actionable data about how to optimize their Facebook integrations, and will draw more sites to add Facebook functionality. Facebook will migrate all admins to this new version of Insights in two months, so all admins should export their existing data to retain access.
---