FB community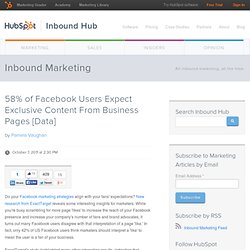 58% of Facebook Users Expect Exclusive Content From Business Pages [Data]
Do your Facebook marketing strategies align with your fans' expectations?
INFOGRAPHIC: How To Triple Facebook Conversions
Facebook's News Feed Changes May Be Reducing Impressions, Increasing Feedback for Page Posts
Since Facebook combined the Top News and Most Recent tabs into a single, hybrid news feed last week, we've been watching for fluctuations in the volume of Page posts and other content types seen on the site's home page.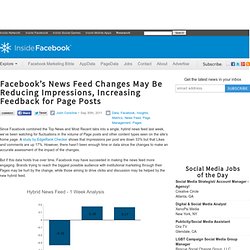 This is an excerpt from our new ebook, 100 Inbound Marketing Content Ideas.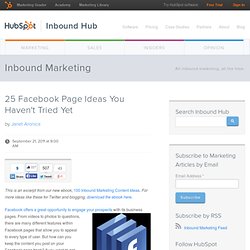 25 Facebook Page Ideas You Haven't Tried Yet
The following is an excerpt of an entry in our Facebook Marketing Bible. The full version contains a walk-through of the Share button and View Shares feature, strategies for encouraging shares using your Page's info tab, and more examples of the best and worst types of updates to add calls to share to. Making the posts you publish stand out in the Facebook news feed is crucial to maximizing primary key performance metrics such as brand lift, clicks, impressions, Likes, comments, and reposts.
How to Get Users to Repost Your Facebook Page's News Feed Posts Through the Share Button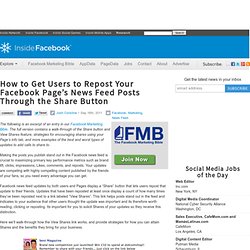 Do you manage a Facebook page? Are you looking for an easier way to manage your tasks?
4 Tips for Effective Facebook Community Management
Jeff Widman, Co-Founder, PageLever July 14, 2011
Study: Average Facebook page reaches between 3%-7.5% of their fans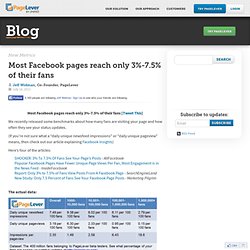 People interact with their favorite brands on Facebook far more than on any other social network, according to a recent study of online consumer behavior.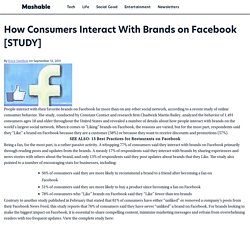 How Consumers Interact With Brands on Facebook [STUDY]
Wow! A recent study... (7)