FB Commerce
Brands Give Facebook F-Commerce an F. InShare257 With a looming $10 billion IPO on the horizon and a community that's estimated to hit 1 billion users this Fall, Facebook seems unstoppable.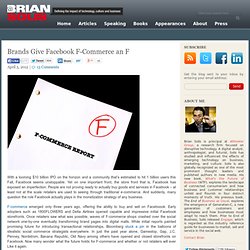 Yet on one important front, the store front that is, Facebook has exposed an imperfection. People are not proving ready to actually buy goods and services in Facebook – at least not at the scale retailers are used to seeing through traditional e-commerce. Shopping Mall on Facebook. REPORT: Facebook Motivates 1 In 5 Purchase Decisions. Who needs printed retail sales circulars, when you have Facebook?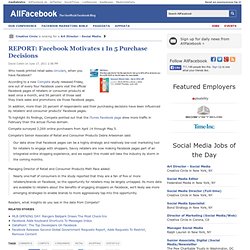 According to a new Compete study released Friday, one out of every four Facebook users visit the official Facebook pages of retailers or consumer products at least once a month, and 56 percent of those said they track sales and promotions via those Facebook pages. In addition, more than 20 percent of respondents said their purchasing decisions have been influenced by retailers' and consumer products' Facebook pages. To highlight its findings, Compete pointed out that the iTunes Facebook page drew more traffic in February than the actual iTunes domain.
5 Tips for Closing a Sale on Facebook. Sean Cook is CEO of ShopVisible LLC.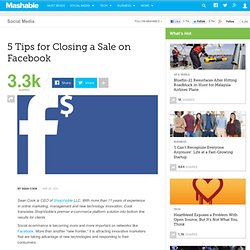 With more than 11 years of experience in online marketing, management and new technology innovation, Cook translates ShopVisible's premier e-commerce platform solution into bottom line results for clients. Social ecommerce is becoming more and more important on networks like Facebook. 5 Tips to help get your products discovered in the new Shopping Mall on Facebook. How To Edit Facebook Custom Tab 6 Easy Steps | ShopTab Facebook App Blog. March 5, 2011 by Jay Feitlinger For those that have upgraded their Facebook Fan page to the new Facebook format a new feature not well known is the ability to being able to customize the name of your Facebook tab pages.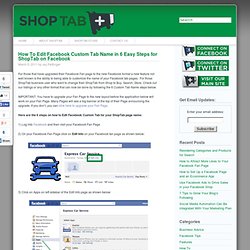 For those ShopTab business user who want to change their ShopTab from Shop to Buy, Search, Store, Check out our listings or any other format that can now be done by following the 6 Custom Tab Name steps below. IMPORTANT: You have to upgrade your Fan Page to the new layout before the application below will work on your Fan Page. Many Pages will see a big banner at the top of their Page announcing the upgrade. 4 Facebook E-Commerce Tips for Brands. Jason Taylor is the vice president of Platform Strategy at Usablenet, a global technology leader in multichannel customer engagement.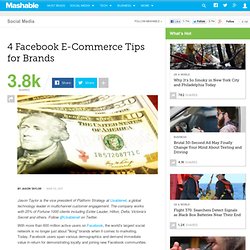 The company works with 25% of Fortune 1000 clients including Estée Lauder, Hilton, Delta, Victoria's Secret and others. Follow @Usablenet on Twitter. With more than 600 million active users on Facebook, the world's largest social network is no longer just about "liking" brands when it comes to marketing. Payvment Brings A Social, Virtual Shopping Mall To Facebook. Payvment, a startup that allows anyone to create and operate a retail storefront on Facebook, is unveiling the first virtual shopping mall on the social network.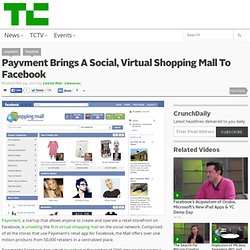 Comprised of all the stores that use Payvment's retail app for Facebook, the Mall offers over one million products from 50,000 retailers in a centralized place. Payvment's Facebook App, which launched in November of 2009, lets anyone create a retail store on the social network. The app lets you set up products, categories of products (i.e. shoes, T-shirts, sweaters), import photos, list terms of service and shipping options and more. Once you set up your online shop on Facebook, it will show up in a separate tab on your profile or page under "storefront". 3 Facebook Commerce Success Stories. To be honest, there aren't a whole lot of Facebook commerce success stories — at least not yet.
Facebook storefronts are still relatively new, and most people don't view the social network as a transaction platform, especially since most third-party Facebook storefront software doesn't actually allow transactions within Facebook. But there are still good reasons to set up shop on your Facebook Page.
---