AIO Privacy
45 Privacy Changes Facebook Will Make To Comply With Data Protection Law. In 2012, Facebook will be making 45 privacy-related changes to comply with the recommendations of an audit by Ireland's Office of the Data Protection Commissioner (DPC) released today.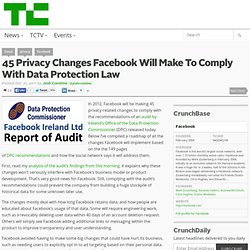 Below I've compiled a roadmap of all the changes Facebook will implement based on the the 149 pages of DPC recommendations and how the social network says it will address them. First, read my analysis of the audit's findings from this morning. It explains why these changes won't seriously interfere with Facebook's business model or product development. That's very good news for Facebook. Still, complying with the audit's recommendations could prevent the company from building a huge stockpile of historical data for some unknown later use. Facebook Settles With FTC To Make New Privacy Changes Opt-In. Facebook has reached an agreement with the FTC to make all future changes to privacy settings opt-in, presumably including new features with their own privacy controls.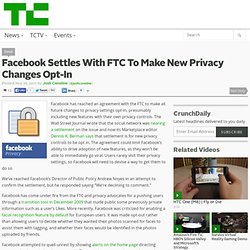 The Wall Street Journal wrote that the social network was nearing a settlement on the issue and now its Marketplace editor Dennis K. Berman says that settlement is for new privacy controls to be opt in. The agreement could limit Facebook's ability to drive adoption of new features, as they won't be able to immediately go viral.
Users rarely visit their privacy settings, so Facebook will need to devise a way to get them to do so. We've reached Facebook's Director of Public Policy Andrew Noyes in an attempt to confirm the settlement, but he responded saying "We're declining to comment." Facebook Launches Trusted Friends and App Passwords Security Features to Reduce Lock Out. As part of National Cyber Security Awareness Month, Facebook has begun the rollout of two new security features to help users regain access to their accounts if they're locked out and let them access third-party applications safely.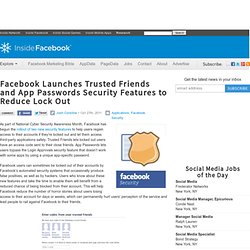 Trusted Friends lets locked out users have an access code sent to their close friends. App Passwords lets users bypass the Login Approvals security feature that doesn't work with some apps by using a unique app-specific password. Facebook users can sometimes be locked out of their accounts by Facebook's automated security systems that occasionally produce false positives, as well as by hackers.
Users who know about these new features and take the time to enable them will benefit from a reduced chance of being blocked from their account. Facebook Security Improvements Coming Soon: Trusted Friends And Application Passwords. Facebook announced two new features to help improve security for its 800 million-plus users: trusted friends, and application passwords.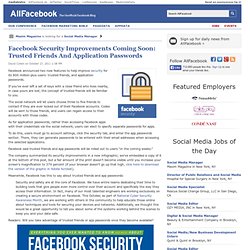 If you've ever left a set of keys with a close friend who lives nearby, in case yours are lost, the concept of trusted friends will be familiar to you. The social network will let users choose three to five friends to contact if they are ever locked out of their Facebook accounts. 6 Privacy Problems In Facebook's Updates: Infographic. 5 Ways to Control Your Facebook Privacy. Facebook is trying to make privacy simpler.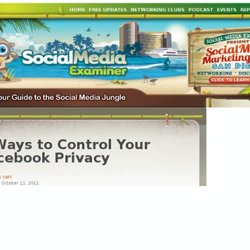 But as they add more features, . With the addition of the , understanding how your Facebook privacy works is more important than ever. The good news is that Facebook is making it simpler to . The bad news is that there's a lot of confusion around the Subscribe button and what it means for privacy. So let's . (6) How to Get More Subscribers. Facebook Struggles to Explain Its Web-Tracking Practices. Facebook's business is built on trust, but that trust has been shaken over the past few weeks by criticism and speculation regarding how it uses browser cookies to get data about users.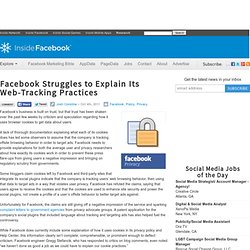 A lack of thorough documentation explaining what each of its cookies does has led some observers to assume that the company is tracking offsite browsing behavior in order to target ads. Facebook needs to provide explanations for both the average user and privacy researchers about how exactly its cookies work in order to prevent these press flare-ups from giving users a negative impression and bringing on regulatory scrutiny from governments. Some bloggers claim cookies left by Facebook and third-party sites that integrate its social plugins indicate that the company is tracking users' web browsing behavior, then using that data to target ads in a way that violates user privacy. Facebook Privacy: 3 Fights to Expect When You Get the New Timeline. As an adult, you have responsibilities — an income, maybe a mortgage, possibly children.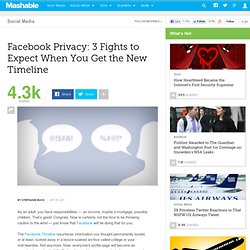 That's great! Congrats. The New Facebook: How to Take Control of Your Privacy. Facebook took a huge step toward ubiquitous sharing with its new timeline and sharing features.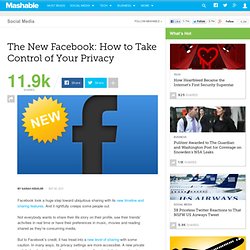 And it rightfully creeps some people out. Not everybody wants to share their life story on their profile, see their friends' activities in real time or have their preferences in music, movies and reading shared as they're consuming media. Facebook Privacy and Settings. Welcome to YouTube!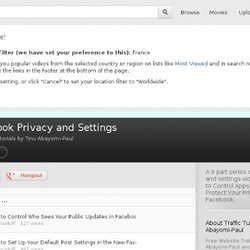 The location filter shows you popular videos from the selected country or region on lists like Most Viewed and in search results.To change your location filter, please use the links in the footer at the bottom of the page. Click "OK" to accept this setting, or click "Cancel" to set your location filter to "Worldwide". 8 Critical Ways To Protect Your Privacy On The New Facebook. As some of you have already noticed, Facebook just rolled out a huge revamp of some of its core features like News Feed, while adding new features like Smart Lists and News Ticker.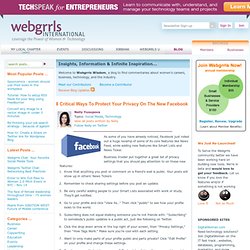 Business Insider put together a great list of privacy settings that you should pay attention to on these new features: Know that anything you post or comment on a friend's wall is public. Do we really care about our online privacy? - TNW Insider. According to an infographic shared on Search Engine Journal, over 2 million photos are posted to Facebook during any given 20 minute period, 7 billion pieces of content are shared weekly and 3,500 images are uploaded to Flickr every minute. With these stats helping to demonstrate that an immense amount of personal content is being shared online, you would think that people would be concerned about ensuring that information doesn't fall into the wrong hands, or that it can't be used or exploited for advertising purposes. The reality, however, is very different.
Facebook Facebook has to be the biggest proof that the majority of people online simply don't care about their privacy, as long as they're getting what they want in return.When Facebook makes major changes to its privacy settings, which are usually never in favour of its users, some express outrage, blog posts are written, status updates are copied and pasted, and threats of boycotts are made. Facebook Previews Privacy Settings, Posts And Tags. Making It Easier to Share With Who You Want (4) Facebook's new privacy and sharing defenses (they are quite nice) Mark Zuckerberg is the smartest social thinker I've met on my journey through life. He's frequently misunderstood because he's, well, generally too far in front of us. I remember meeting Doug Engelbart, the guy who invented the mouse (and showed it to us back in 1967 — way before Apple shipped the first consumer machine in 1984 that used it).
Why You Should Change your Privacy Settings on Facebook. Facebook prides itself on allowing you to share all kinds of information with your friends and family, and by default there many privacy features that are turned off that you might want to turn on once you realize what is at stake. One of the biggest privacy features that I had to change right away is allowing my "friends" to check me in with "People here now". It seems absolutely crazy to allow other people to be able to check you in different places, especially considering that someone might check you into a place when you are somewhere else. Allowing people to know where you are might seem like a fun way to connect with other people, but when you don't have total control over this feature things can get messy.
Who knows why Facebook has this on by default. 10 risky default settings in social media that you need to check - TNW Social Media. Do you read every single "Terms of Service" you come across before clicking "I Agree" to? If you're anything like me, the answer is no. In fact, I've agreed to hundreds since I first started using AOL 14 years ago, but I haven't read one. Safety Center (3) How to Keep People from Seeing Your Facebook Info - Lifehacker. Privacy Breach: 2 Settings You Need to Check NOW. Understanding Facebook's new privacy changes - great news for parents at Cool Mom Tech.
---