AIO Marketing
How To Use Facebook's Timeline For Marketing. You can advance your business by enabling Facebook's timeline on your profile and posting content that promotes your brand.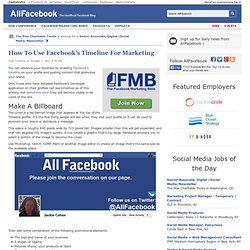 Only those who have installed Facebook's Developer application on their profiles can see timelines as of this writing, but sometime soon they will become visible to all users of the site. The cover is a big banner image that appears at the top of the Timeline profile. 5 Ways Facebook's New Features Will Fuel Social Shopping. Christian Taylor is founder and CEO of Payvment and developer of the number-one Facebook ecommerce platform for brands, agencies and merchants, and the world's only Facebook Shopping Mall.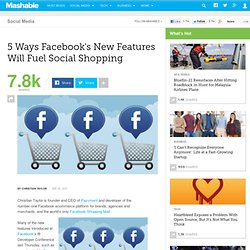 Many of the new features introduced at Facebook's f8 Developer Conference last Thursday, such as a customizable Open Graph and real-time news Ticker, will have a tremendous impact on social commerce and social shopping in the very near future. SEE ALSO: How Facebook Timeline Might Radically Change the Look of Brand Pages [PICS] Developers will now be able to build a Facebook commerce experience more relevant to shoppers and also offer more effective social discovery for sellers. Sellers will be able to access new insights into shopper preferences and will use this data to better promote their products. The Real Reason Your Customers Don't Like You on Facebook | facebook.
A tale of two agency social media models. Some things actually are black and white.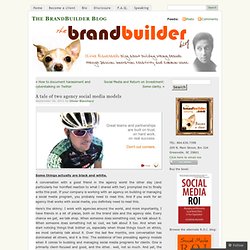 A conversation with a good friend in the agency world the other day (and particularly her horrified reaction to what I shared with her) prompted me to finally write this post. If your company is working with an agency on building or managing a social media program, you probably need to read this. And if you work for an agency that works with social media, you definitely need to read this. Here's the skinny: I work with agencies around the world, and more importantly, I have friends in a lot of places, both on the brand side and the agency side. 9 Facebook Marketing Strategies to Build Super Fans. Are you looking to attract high-quality and loyal fans to your Facebook page?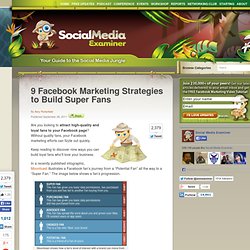 Without quality fans, your Facebook marketing efforts can fizzle out quickly. Keep reading to discover nine ways you can build loyal fans who'll love your business. In a recently published infographic, Moontoast illustrates a Facebook fan's journey from a "Potential Fan" all the way to a "Super Fan." What Should Facebook Page Admistrators Do After F8? Facebook Chief Executive Officer Mark Zuckerberg made no mention of pages during his keynote today at the company's annual conference.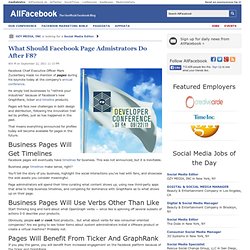 He simply told businesses to "rethink your industries" because of Facebook's new GraphRank, ticker and timeline products. Pages will face new challenges in both design and distribution, following the innovation trail led by profiles, just as has happened in the past. Social Media's Impending Flood of Customer Unlikes - Brian Solis. By Brian Solis | 10:43 AM September 21, 2011 There's an old saying that carries renewed meaning these days: Give the people what they want.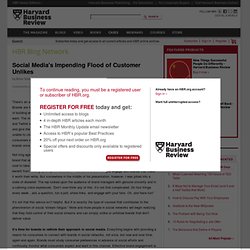 Brands are furiously creating profiles in social networks such as Facebook and Twitter in the hopes of building engaging communities with customers and giving people what the brands think they want. The main activity in this effort is to spur consumers to "like" and "follow" a brand's Facebook and Twitter streams. But are these companies developing effective campaigns to build engagement and give the people what they want? From where I sit, I'd say many are not. Facebook Marketing For Dummies Cheat Sheet. Cheat Sheet Facebook is a social networking website that offers a free, online location to market your business, organization, or individual to the Facebook community.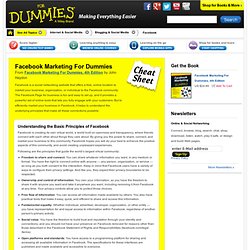 The Facebook Page for business is fun and easy to set up, and it provides a powerful set of online tools that lets you fully engage with your customers. But to efficiently market your business in Facebook, it helps to understand the underlying principles that make all these connections possible. 6 Ways B2B Companies Are Using Facebook. Is Facebook applicable for B2B companies?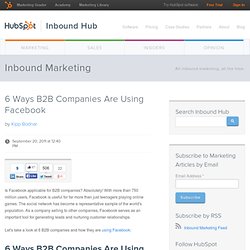 Absolutely! With more than 750 million users, Facebook is useful for far more than just teenagers playing online games. The social network has become a representative sample of the world's population. As a company selling to other companies, Facebook serves as an important tool for generating leads and nurturing customer relationships. Wow! A recent study... (1)
Facebook to Disable "Send an Update" that Let Pages Reach Fans Directly Through Messages. Facebook has begun notifying Page owners that on September 30th it will remove the "Send an Update" option that let Page admins send Messages to their fans.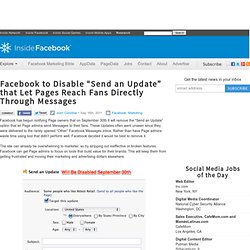 These Updates often went unseen since they were delivered to the rarely opened "Other" Facebook Messages inbox. Rather than have Page admins waste time using tool that didn't perform well, Facebook decided it would be best to remove it. The site can already be overwhelming to marketer, so by stripping out ineffective or broken features, Facebook can get Page admins to focus on tools that build value for their brands.
9 Facebook Marketing Success Stories You Should Model. Are you curious what other companies are doing to achieve success with Facebook marketing?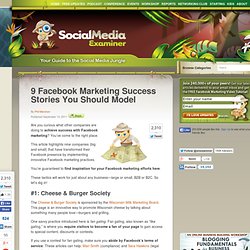 You've come to the right place. This article highlights nine companies (big and small) that have transformed their Facebook presence by implementing innovative Facebook marketing practices. Facebook Officially Launches Smart Lists, and Special Friend Lists That Influence the News Feed. Facebook today officially launches several improvements to its Friend Lists feature that can be used to define privacy settings and filter the news feed, including some changes that leaked last week. As we covered in depth then, users now have automatically created, populated and updated Smart Lists of their family, co-workers, classmates, and local friends.
Additionally, users can now add friends to an "Acquaintances" list whose members will appear less frequently in the news feed, and a "Close Friends" list of people who will appear more frequently in news feed and whose updates will trigger notifications. By building or starting these lists for users, Facebook may be able increase adoption of the Friend Lists feature, leading users to control their privacy more nimbly, increase the relevance of their news feeds, and share a wider range of content with more specific audiences. Using Social Sharing Buttons Leads to 7x More Mentions [Data] Social media can be a great promotional vehicle for sharing your content and helping it reach an extended audience beyond your direct network of fans, followers, and subscribers. But are you missing out on some low-hanging fruit to make sure you give your content what's necessary to help it spread? When it comes to spreading content in social media, some of the easiest-to-pick pieces of low-hanging fruit are social sharing buttons.
How to Create Social Media Business Guidelines. Social media policies and guidelines provide your business a framework to carry out your social media strategy and implement your social media tactics. They can also have a direct impact on the success of your social media endeavors. In this article, I'll introduce you to social media guidelines for all your employees and your social media management team, and for crisis management and specific platforms. I'll also take a look at important considerations for big and small businesses.
The Ultimate Guide to Facebook Marketing. 64% of Small Businesses Think Social Media Is Unnecessary [STUDY] Small businesses don't seem to be swept up in the social media revolution, according to a new study. Hiscox, a small business insurance provider, polled 304 decision makers for U.S. businesses with between one and 249 employees in June. Of those polled, just 12% considered using social media a "must" for their business. However, 50% of respondents said they couldn't do without word-of-mouth marketing. Just 4% said the same about social media marketing. 6186 Words On Becoming A Facebook Machine (It's a mega post!) Warning: [If you're a social media tool chaser (not to be confused with tail chaser), this post is NOT for you. This post is for only for smart people looking for real strategy and tactics you won't have to trade their first born to implement.
It's my best 6,186 words of awesome thoroughness written for you! No fluff. 13 Hot Facebook Marketing Tips From the Top Pros. The Ultimate Facebook Marketing Cheat Sheet.
---