AIO Marketing
How To Use Facebook's Timeline For Marketing
5 Ways Facebook's New Features Will Fuel Social Shopping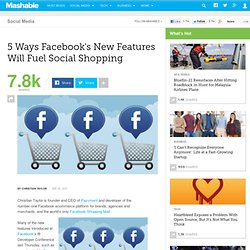 Christian Taylor is founder and CEO of Payvment and developer of the number-one Facebook ecommerce platform for brands, agencies and merchants, and the world's only Facebook Shopping Mall.
The Real Reason Your Customers Don't Like You on Facebook | facebook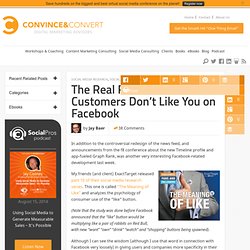 Why Smart Marketing Is About Help, Not Hype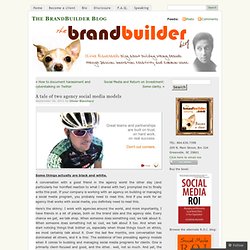 Some things actually are black and white.
A tale of two agency social media models
9 Facebook Marketing Strategies to Build Super Fans
Are you looking to attract high-quality and loyal fans to your Facebook page?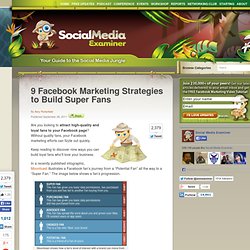 What Should Facebook Page Admistrators Do After F8?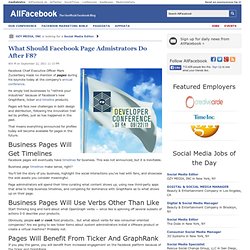 Facebook Chief Executive Officer Mark Zuckerberg made no mention of pages during his keynote today at the company's annual conference. He simply told businesses to "rethink your industries" because of Facebook's new GraphRank, ticker and timeline products. Pages will face new challenges in both design and distribution, following the innovation trail led by profiles, just as has happened in the past.
by Brian Solis | 10:43 AM September 21, 2011 There's an old saying that carries renewed meaning these days: Give the people what they want. Brands are furiously creating profiles in social networks such as Facebook and Twitter in the hopes of building engaging communities with customers and giving people what the brands think they want. The main activity in this effort is to spur consumers to "like" and "follow" a brand's Facebook and Twitter streams. But are these companies developing effective campaigns to build engagement and give the people what they want? From where I sit, I'd say many are not.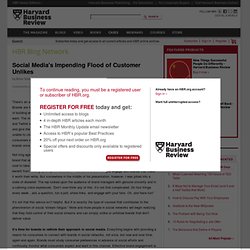 Social Media's Impending Flood of Customer Unlikes - Brian Solis
Cheat Sheet
Facebook Marketing For Dummies Cheat Sheet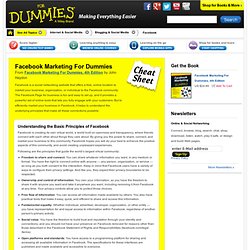 6 Ways B2B Companies Are Using Facebook
Is Facebook applicable for B2B companies?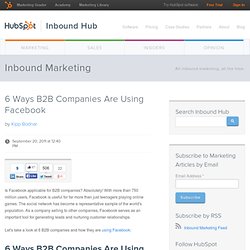 Wow! A recent study... (1)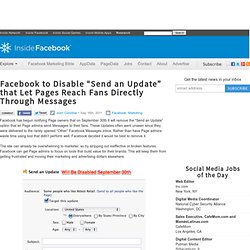 Facebook to Disable "Send an Update" that Let Pages Reach Fans Directly Through Messages
Facebook has begun notifying Page owners that on September 30th it will remove the "Send an Update" option that let Page admins send Messages to their fans.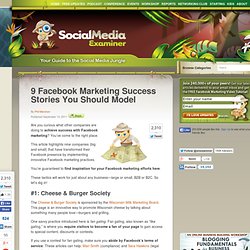 Are you curious what other companies are doing to achieve success with Facebook marketing? You've come to the right place. This article highlights nine companies (big and small) that have transformed their Facebook presence by implementing innovative Facebook marketing practices.
9 Facebook Marketing Success Stories You Should Model
Facebook Officially Launches Smart Lists, and Special Friend Lists That Influence the News Feed
Facebook today officially launches several improvements to its Friend Lists feature that can be used to define privacy settings and filter the news feed, including some changes that leaked last week.
Social media can be a great promotional vehicle for sharing your content and helping it reach an extended audience beyond your direct network of fans, followers, and subscribers. But are you missing out on some low-hanging fruit to make sure you give your content what's necessary to help it spread? When it comes to spreading content in social media, some of the easiest-to-pick pieces of low-hanging fruit are social sharing buttons.
Using Social Sharing Buttons Leads to 7x More Mentions [Data]
How to Create Social Media Business Guidelines
Social media policies and guidelines provide your business a framework to carry out your social media strategy and implement your social media tactics.
Facebook Marketing Professionals: Strategy, Tips and Best Practices Group News
64% of Small Businesses Think Social Media Is Unnecessary [STUDY]
Small businesses don't seem to be swept up in the social media revolution, according to a new study. Hiscox, a small business insurance provider, polled 304 decision makers for U.S. businesses with between one and 249 employees in June.
6186 Words On Becoming A Facebook Machine (It's a mega post!)
13 Hot Facebook Marketing Tips From the Top Pros
The Ultimate Facebook Marketing Cheat Sheet