AIO Apps
Timeline Apps. How to Create a Store on Facebook. I believe that in the years ahead Facebook will become not only a place to connect with friends and family but a place to buy and purchase stuff.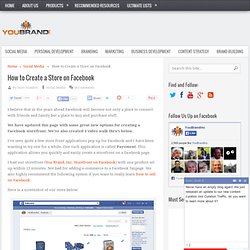 We have updated this page with some great new options for creating a Facebook storefront. We've also created 4 video walk thru's below.. I've seen quite a few store front applications pop up for Facebook and I have been wanting to try one for a while. One such application is called Payvment. This application allows you quickly and easily create a storefront on a facebook page. Instagram Photos Now Show Up Full Size on Facebook. Instagram has announced deeper integration with Facebook — now your Instagram pictures shared to Facebook will be displayed in full size on your timeline or the timeline of a friend.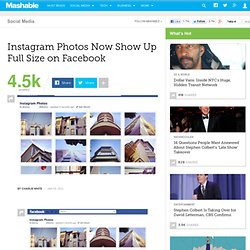 Not only will the photo show up in all its glory, but the caption you've added from within the Instagram app on the iPhone will be sitting there underneath. The integration goes even deeper, letting you share your friends' pictures (or even groups of pictures) from Instagram onto Facebook. You can create an "Instagram Photos" album on your Facebook account to aggregate all those photos. The insular nature of the Instagram service still remains, where the only platform you can use to take Instagram pictures is the iPhone. But this new capability opens things up considerably. 23+ Essential Facebook Page Applications to Improve Fans Engagement in 2012.
Greetings and Happy New Year!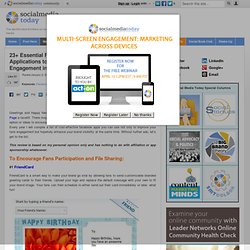 To kick off 2012, some of you may think of giving your Facebook Page a facelift. There may be some features you wish to add such as custom iframe tabs with fan gate option or ideas to encourage fans engagement on your Page. If you do, you've come to the right place! Every year I will compile a list of cost-effective facebook apps you can use not only to improve your fans engagement but hopefully enhance your brand visibility at the same time. Top 10 Facebook Apps for Fan Engagement and Building Community.
Are you looking for ways to better engage Facebook fans and build your community?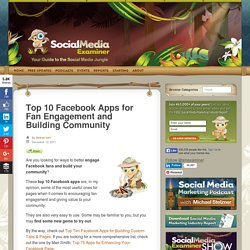 These top 10 Facebook apps are, in my opinion, some of the most useful ones for pages when it comes to encouraging fan engagement and giving value to your community. They are also very easy to use.
---